6 Illustrations That Reimagine Classic Disney Characters in Modern Times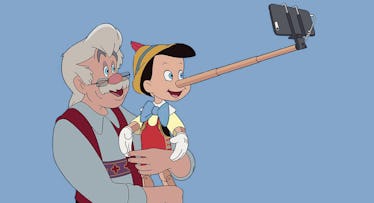 Throughout the 20th Century, Disney created a seemingly endless parade of classic kid's movies. They're still as beloved as ever but they sometimes do feel a bit dated to some. What, artist Tom Ward wondered, would iconic characters look like if they existed into the world of 2017? His resulting illustrations place such characters as Dumbo and Peter Pan in iconic scenes but spin them to reflect our modern world. Some characters stare at screens; others swim near pollution; still others are free to be who they are. While playful, his #AltDisney series ends up becoming a semi-tragic reflection on our current society
Ward noted that using Disney characters helped him focus in on important problems, saying, the "characters are so iconic that I thought transporting them to our modern world could help us see it through new eyes, giving me an opportunity to communicate some issues I feel strongly about. e.g. circus animals, pollution and the ivory trade, using friendly and familiar visuals with a darker tone."
The resulting images make some strong statements against animal cruelty, including this illustration where Simba, Tigger, and Shere Khan have all been forced into a life of captivity. There's also a photo where Mowgli has to free Baloo from chains before they can celebrate "The Bare Necessities of life."
In another, Peter Pan finds he can no longer whisk the Darling children away to Neverland thanks to a modern home security system.
Ward demonstrates the effects of ocean pollution by making Ariel's tail mutated and placing Scutter on a barrel of toxic waste. Suddenly it does seem better down were it's wetter.
The most effective of Ward's illustrations may be this simple tweak to The Sword in the Stone. In it, young Arthur is too distracted by his screen to even attempt yanking Excalibur from its resting place.
Thankfully, not all of the photos were negative, as this Beauty & the Beast illustration showing LeFou and Gaston proudly celebrating at a Pride parade.
Ward also explores the positive effects of technology with a fun selfie of Pinocchio and Geppetto thanks to Pinocchio's homemade selfie stick.
This article was originally published on