Over 150 Bikers Dropped a Bullied Kid Off at School
Because in Canada, even the biker gangs are polite as hell.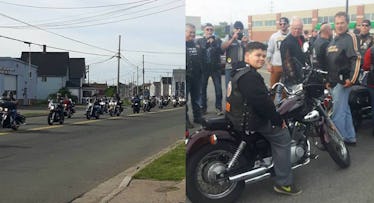 Facebook / Defenders Of The Children
Xander Rose, a 10-year-old boy living in Nova Scotia, had become the target of bullying at his school because of the color of his skin and his size. It got to the point where other students were ripping off his clothes and even threatening to end his life. When school officials failed to step in and help, Xander's mother was desperate for assistance. Mike Basso, a local biker and the organizer of the Cape Breton Bike Rally, answered the call and rallied bikers from all over the area to walk Xander into school yesterday and make sure that he was not harassed in any way.
Basso was able to get more than 150 bikers to show up to escort Xander to school, and many residents showed their support for the bikers and Xander by gathering around the school and cheering them on. According to Basso, "The streets were lined with people who pulled over, clapping hands, tooting horns … it was emotional. I was walking towards the front of the school with a lump in my throat."
The support of the bikers came after Xander's mother reached out to Defenders of the Children, a nonprofit children's advocacy group based in Arizona, to try and get some help for her son. The group's mission statement is "to protect children, facilitate healing, and end the inter-generational cycle of abuse in our society." Defenders of Children encourages parents to reach if their child is a victim of violent or abusive behavior, and the group will provide resources that will help protect the children.
In Xander's case, Defenders of Children was able to connect the Rose family with Basso, who then made it his personal mission to stop the bullying Xander had been living with for so long. Hopefully, thanks to 150 Canadian bikers, Xander no longer has to worry about being bullied–just road rash.
This article was originally published on