Why the Moon Landing Is the Most Important American Story for Kids
John Rocco explains why Apollo 11 still matters, more than ever.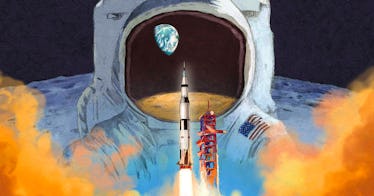 Crown Books for Young Readers
Dramatic movies or TV shows about NASA are a great way to get kids fired-up about the history of real-life space exploration. But, these kinds of things do not, however, tell the entire intricate story of how human beings went from having zero spacecraft and satellites in orbit to landing a freaking person on the Moon in less than two decades. For that kind of detail, you need a book. And if you want that book to be consumed and loved by children, you better make sure it has some pictures.
"Movies like Hidden Figures, Apollo 13 and The Right Stuff are great," John Rocco tells Fatherly. "I love those movies. But with this, I wanted to tell the entire story. Not just one aspect of it."
Out this month in bookstores and online retailers, Rocco's beautiful book, How We Got to the Moon, does just that. It proceeds from the premise that the reader might now know anything about how rocket technology was developed, might not remember the origins of the space race in the 1960s, is maybe fuzzy on the specific history and the hundreds of people who made it happen, and would like to become an armchair expert overnight. When I asked Rocco if he felt like there was a specific age-range for the book, he said no.
Of course, it's a book for adults, too." Rocco says. "I wrote it for the kid in all of us who is fascinated by how things work, and how this monumental achievement happened."
A note on those illustrations: They literally make the book more than just a collection of space facts. These gorgeous illustrations were all made by Rocco himself and the loving detail shows. If you want to know what the Atlas rockets looked like next to the towering size of the Saturn V, these illustrations do that. But, if you're also unfamiliar with what people like Yuri Gagarin or Neil Armstrong actually looked like, these portraits bring these historical figures to life with impeccable clarity. Most importantly though, the lavish illustrations and breezy approach to history make the journey to the Moon more than just dry details to memorize; How We Got to the Moon presents this journey as the real-life epic it was.
But it's not just all about astronauts and rockets. Rocco also thinks one of the goals of the books is to get kids excited not just about the vague idea of STEM, but more specifically, the all-important role that engineers play in the exciting story of space travel.
"Kids often want to grow up to be astronauts," Rocco explains. "But, I hope when they read this, more kids will say they want to grow up to be engineers." Without the people on the ground, nothing about the eventual triumph of Apollo 11 could have happened, a fact which How We Got to the Moon drives home without getting too heavy-handed about it.
If you're unfamiliar with Rocco's books before this, there's a good chance you've already seen his artwork. He's done the covers for the Percy Jackson books, as well as the picture books Blackout, Fu Finds a Way, and Blizzard. Rocco's writing style and illustration style go hand-in-hand; both convey complex ideas simply, but without dumbing-concepts down for children.
Although it's only been out for a few weeks, How We Got to the Moon has been longlisted for a 2020 National Book Award. And once a space-loving parent cracks the book, you'll instantly see why. For those of us who poured over various books about space travel as children, How We Got to the Moon will feel like the gift we never got back then. This book isn't celebrating a brief moment or trying to capitalize on an anniversary. In fact, Rocco tells me that the publisher wanted to get the book out for the Apollo 11 50th anniversary last year, but that "getting this right" was more important than pushing a book out to celebrate some cultural moment. The Apollo 11 Moon landing isn't just some distant fact that happens in a textbook. It's a vital part of our future.
NASA's Artemis project aims to put people back on the Moon by 2024.
"I think it's going to happen," says John Rocco. "And it will be an exciting time for kids everywhere."
How We Got to the Moon is in bookstores now and available for purchase online.