How to Watch the Charlie Brown 'Great Pumpkin' Halloween Special
First you have to write to the Great Pumpkin.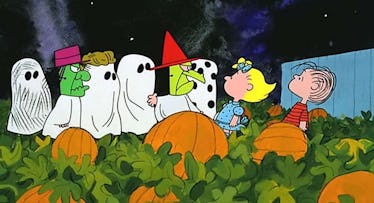 It's the Great Pumpkin, Charlie Brown is unfortunately not streaming on Netflix, so you're going to have to make some compromises to find this 1966 Halloween classic. So, where is It's the Great Pumpkin, Charlie Brown streaming?
The short answer: you can't watch it on conventional TV anymore. You can only watch it on Apple TV+. So if you don't have Apple TV+ and you wanted to (legally) watch It's the Great Pumpkin, Charlie Brown, before actual Haloween, you would not be able to do so. You have to sign-up for Apple TV. Is it worth it? Maybe it is worth it to see Linus stubbornly wait out in a pumpkin patch to wait for the Santa Claus of Halloween (the Great Pumpkin).
Will this cause your kids to ask if there is really a Great Pumpkin and why hasn't he given them present yet? Perhaps. Either way, the droll humor of The Peanuts is just unlike anything else that's on today. Introduce your kids to this TV special or just watch it with your parenting partner. It's the Great Pumpkin, Charlie Brown has plenty of jokes in there for you. As Lucy puts on her witch costume, she explains why she chose it: "A person should always choose a costume which is in direct contrast to her own personality." Snoopy aka the World War I Flying Ace would definitely disagree with that.
If you don't want to pay for AppleTV+, there is a window where you can watch It's the Great Pumpking Charlie Brown for free. From October 30 to November 1, Apple TV will make this free.