How to Watch the Best of 'Jeopardy! 'on Netflix
The entire series isn't streaming on Netflix, but there is a big chunk on there all the sudden. Here's how to watch the best stuff.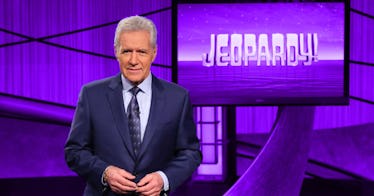 NBC
If you're browsing through Netflix and are wondering "what should I watch tonight?" then you're already halfway towards making a decision, since you're already thinking in question format. Jeopardy!, the long-running game show is streaming on Netflix.
If you grew up with a new episode of Jeopardy! gracing your TV set organically every night (either before or after Wheel of Fortune, depending on where you lived), the idea of sitting down to pick a specific episode to watch might seem more daunting than figuring out how much to wager on that Daily Double. However, there's actually only a limited selection of Jeopardy! in Netflix's streaming library, so picking out an episode or series of episodes to watch is actually pretty easy. Here are the basics of Netflix's current Jeopardy! options.
What is a Tournament, Alex?
For Jeopardy! fans who want to relive James Holzhauer's epic (and lucrative) victory streak or see how host Alex Trebek is doing as he goes through treatment for pancreatic cancer, Netflix can't help you there. The streaming service currently does not have recent, normal episodes of the show in its library. (Hulu, however, does have a more current offering).
No, what Netflix has is an assortment of tournaments. These are special Jeopardy! events that are distinct from the normal games. Netflix currently has a Tournament of Champions, a College Championship, a Teen Tournament, and a Teachers Tournament. There's also a selection of Kids Week" episodes if you want to get one of your rugrats answering questions (or if you just want to answer some really easy questions to feel better about yourself. We won't judge).
Here are the various tournaments you can watch.
"Tournament of Champions II"
Netflix identifies this 10-episode stretch as the second Tournament of Champions — a mostly annual Jeopardy! tradition that brings back past winners and top-earners from previous seasons and pits them against one another, but it's actually more like the 38th, having originally aired in 2011. This is just the second tournament to hit Netflix.
The questions in the Tournament of Champions are generally considered to be slightly harder than questions for normal episodes of Jeopardy!, though they're certainly not impossible. If you want to challenge yourself a little while still being able to answer most of Alex Trebek's puzzlers, stream the Tournament of Champions II.
The added benefit of streaming a Tournament of Champions — or any Jeopardy! tournament, really, is that there's a built-in narrative. You can pick who you want to root for in each quarterfinal round, and hope that your pick makes it to the top.
We won't reveal who wins or loses (though you could easily look up the winner of the now 8-year-old tournament), but it's the 2011 Tournament of Champions is notable for featuring Roger Craig as a contestant. Craig might not be as well-known as Holzhauer or Ken Jennings, but he holds an important place in Jeopardy! history. He set multiple records when he first appeared on the show prior to the tournament, including the highest single-game total winnings ($77,000), the highest five-game total in his first initial games ($195,801), and the largest Daily Double Bet ($18,000). Holzhauer has since broken all three of these records, but Craig remains a Jeopardy! celebrity.
"College Championship"
If one of the benefits of watching Jeopardy! tournaments is that you can root for your pick the same way you'd root for a team during March Madness, then why not make the similarity even stronger with the College Championship, where college students represent their schools? Netflix is currently streaming the 2014 College Championship.
There's a debate about whether or not the questions in the College Championship are easier than those in normal Jeopardy!, but the general consensus seems to be that they're different. College Championships feature more current questions, and there tends to be more science and more relevant pop culture questions. The winner of the College Championship gets an automatic invitation to the next Tournament of Champions in addition to prize money, for what it's worth.
Here's the full list of colleges that are represented in the 2011 tournament, in case you want to see if you can root for your alma mater: Texas A&M University, University of Chicago, Princeton University, Berkeley, Harvard University, University of California (both Berkely and Los Angeles), Middlebury College, University of Oklahoma, Vanderbilt University, Oakwood University, Temple University, Ohio State University, Duke University, University of Delaware, and Ball State University.
"Teen Tournament"
Hey! Do you wanna show you're hip and know what the cool Jeopardy!-playing teens are talking about? Well, if so, keep in mind that this tournament is from 2014, which was three years before Fortnite came out.
Still, the Teen Tournament, which as you may have guessed, features high school-aged contestants duking it out, is usually a fun watch. It's a good back and forth between being scoffing at "easy" questions that the youth don't do the answer to and being impressed and/or humiliated when they aces questions you don't know the answer to at all.
"Teachers Tournament"
The Teachers Tournament is the newest Jeopardy! tournament, as the Tournament of Champions has its roots in the '60s while both the College and Teen ones started in the '80s. The Teachers Tournament only started in 2011, but Netflix is streaming the 2015 tournament.
Perhaps more than any other tournament, the Teachers Tournament is the most like normal Jeopardy!, since the only real difference is that the contestants are all K-12 teachers.
"Kids Week"
Finally, if you want some easy questions (or are watching with kids), fire up the stretch of episodes from Jeopardy!'s 2012 Kids Week, which features contestants who are all between 10 and 12 years old, with question difficulty to match.
It's worth noting that this is one of the last Kids Weeks, as the final one was aired in 2014. Emails from the infamous Sony Hack revealed that Alex Trebek apparently threatened to quit the show following an incident when a contestant's mother got mad at him because he wasn't gentle enough in telling a third-place finisher that they couldn't play Final Jeopardy because they were in the red. That drama isn't available to stream on Netflix, though. Just the 2012 Kids Week.
Check out all these Jeopardy! sections on Netflix right here.
This article was originally published on