How to Watch 'A Charlie Brown Christmas' Without Apple TV+
It looks like Charlie Brown's tiny little tree will be airing on "regular" TV after all.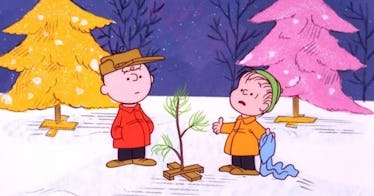 United Feature Syndicate
If you're among the countless families who take solace from Charlie Brown's teeny-tiny Christmas Tree, there's some good news and some bad news. The good news is that during a very specific period of time, you'll be able to watch A Charlie Brown Christmas for free. The bad news is, there are now fewer ways to make that happen.
As was widely reported in the great wild world of "where can you stream things" media, all the Charlie Brown Holiday Specials have largerly been relegated to only-Apple TV-status. This meant that, for Halloween, if you had wanted to watch It's the Great Pumpkin, Charlie Brown, you were only able to do so with an Apple TV+ account. Granted, there was a period of "free' streaming, but still, the rest of the holiday Charlie Brown specials appeared to exclusively reside with Apple.
But, recently, that decision got revised. Slightly. While it's true that the only on-demand streaming options for A Charlie Brown Thanksgiving and A Charlie Brown Christmas are still Apple TV+, there's now a caveat. Both specials, including A Charlie Brown Christmas, will also air on "regular" TV via PBS on specific dates. Here's how it shakes out.
According to Deadline, the schedule for both looks like this:
"In addition to streaming on their new home Apple TV+, A Charlie Brown Thanksgiving and A Charlie Brown Christmas will air ad-free on PBS and PBS Kids on Sunday, Nov. 22 and Sunday, Dec. 13, respectively, at 7:30 pm local time/6:30 pm CT."
So, that's just one Sunday in December, on the 13th, where you can catch A Charlie Brown Christmas NOT on Apple TV+.
The rest of the time, you'll have to head over to AppleTV to watch it. That said, Apple will make A Charlie Brown Christmas free from December 11 through December 13.
But, if you want to watch A Charlie Brown Christmas, on Christmas day or Christmas Eve, or Christmas Eve Eve, you're going to have to stick with Apple. And that won't happen until December.