How to Throw a Kids Birthday Party That's Fun for Adults Too  
It's not all about the kids.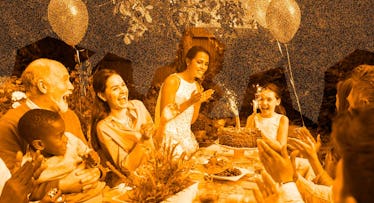 You want your kid's birthday party to be a blast for them and their friends, but don't forget about all the adults on the guest list.You might delight in watching your child open gift after gift, but odds are your neighbor, your childless buddy, and the other kids' parents will be counting down the minutes till it's over.
Since you're gathering people who don't all know one another, expect at least some awkward small talk. And, despite your best efforts as a host, you can't ensure all adults will be entertained at all times. But if you structure the party right, you can grease the mingling, help the time fly faster, and actually make this shindig fun for the grownups too. Here's how.
RELATED: 14 Fun Indoor Activities for Your Kid's Next Birthday Party
1. Carve out a grownup space.
Your house or yard will be packed, so don't make the adults jockey for seats between squirrely kids or cling to a tiny slice of countertop just to set their cake plate down. Give the grownups their own section removed from the children but still within sight. That way, they can peek in at the kiddos playing charades or bolt into the herd to break up a fight. An adults-only space will also give everyone a break from kid-speak and spark adult conversations between people who've just met.
2. Provide adult food.
Most parents already eat mac 'n' cheese and chicken fingers more than they'd like. So if you're serving food at this party, offer the adults something more adult-like than what you give the kids. It doesn't need to be extravagant. Supply a smattering of apps like bruschetta, charcuterie, antipasto skewers, and spinach-artichoke dip — bonus if you place them in your adults-only area. Or go buffet-style with slow-cooker pulled pork for sandwiches, a crock of chili, or a few flatbread pizzas with toppings kids may not like but adults sure do.
3. Don't forget the beer.
Give the grownups something other than a juice box to quench their thirst. Beer, wine, and sangria are always a hit, but if you're serving alcohol, keep the supply limited. You do not want a drunk uncle on your hands. If you'd rather skip the booze, offer cucumber- and mint-infused water, blood orange lemonade, or a virgin sangria made with sparkling water, passionfruit juice, cranberries, and sliced oranges and kiwis. Provide coffee, tea, or another caffeinated option too, even for an evening party. Tired parents will appreciate the pick-me-up.
4. Create an all-ages playlist
Background music can lift the mood of any party — so long as you play the right tunes. If you rock Kidz Bop or any Disney soundtracks, you'll drive the adults insane. The other parents get their fill of this fluff in their own homes, and your childless friends will be happy to have never heard it. Instead, choose music that all ages, even Grandma, can groove to. Make a playlist of songs from the Beatles, Bob Marley, Michael Jackson, Billy Joel, and the Beach Boys. Or choose a Pandora station like Acoustic Classics, Motown, or Family Road Trip.
5. Give guests tasks.
Any time you host a gathering, guests will ask how they can help. Usually, you know they're just being polite so you thank them for offering and tell them to chill. But if someone asks at a kid's birthday bash, odds are they really, truly want a job. Having an easy task helps the boring stretches go by faster and gives them a great excuse to escape awkward conversations. Whether it's keeping the drink station stocked, cutting and serving cake, or even just combing the backyard for trash, figure out your needs ahead of time so you're ready to delegate on the fly. It's best to think of tasks that aren't absolutely necessary so that if the role doesn't get filled, you won't be screwed.
6. Hire a sitter (or two).
If you have one or two trustworthy teenage sitters who love your kids and would love a little extra cash, why not hire them to give you a hand? Give them specific child-focused tasks such as face-painting, story reading, or bouncy castle patrolling. This will allow the moms and dads to take a break from their youngsters so they can chat with each other. With a sitter in the mix, it may even be safe to tell parents they can drop their kids and go.
MORE: Two-Year Old Birthday Party Ideas
7. Stage an all-inclusive game.
Instead of just kids-only activities, plan a big game of soccer, flag-football, or capture the flag that involves the adults too. Getting physical will let the little ones burn through their sugar highs and help the grownups mingle more. Just make sure to mention this activity in the invite so the adults know to expect it, won't show up in leather sandals or a white dress, and will actually play. And do not, no matter how old the kids are, have captains pick the teams. Instead, have everyone draw teams out of a hat or find another fair way to divvy up sides. That way, nobody has to endure being picked last.
8. Keep the party short.
When planning your party agenda, make sure everything can fit into an age-appropriate time window. For kids 5 and under, keep it to roughly an hour and a half, two hours max. Older kids can handle a little longer party, but definitely cap it at three hours. If you push it much longer, adults may lose patience and overstimulated kids will burn out — and that'll really make the non-parents want to bolt. Between greeting and settling in guests, getting games going, serving cake, opening presents, and dealing with the inevitable wipeout or wrestling match, there is a ton to pack in, so be realistic with your itinerary.
9. Send the parents away.
The most fun kid's birthday may well be the one you don't attend. Do your fellow parents a solid and bring your family, hire help, or enlist your local bouncy fun castle to help take care of a (modestly-sized) group of kids without their help and let the the parents take the time for much-needed chores. Let it be know this is a parent-optional party on the invite. They'll thank you.
This article was originally published on