How to Stream Every Pixar Movie Before 'Toy Story 4'
Not every Pixar movie is a classic, but you want to watch most of them at least twice. Here's where everything is streaming online.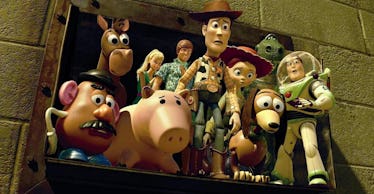 Disney/Pixar
In the past two decades, animated movies from Pixar have become not just the most beloved movies for families, they've taken on a spot in a culture that no one could have seen coming. A new Pixar movie isn't just expected to be good, our culture now demands that each Pixar movie out-Pixar all other Pixars that have Pixared before. Will the long-awaited Toy Story 4 live up to the hype? Considering the giant backlog of excellent Pixar movies that already exist, it hardly matters.
But how can you watch all these Pixar movies before and after Toy Story 4? Where is everything streaming? We're here to help. Here's every single Pixar movie ever released, complete with where you can watch those movies online, including all the Toy Stories. To make things easy, the Pixar movies are organized by four groups: The Really Good Ones, The Decent Ones, The Ones You Haven't Seen, and The Non-Classics.
The Really Good Ones (I.E. Toy Story movies and The Incredibles)
Though Pixar has a reputation for being amazing, not all Pixar movies are as popular as others. Here's a totally biased grouping of the ones that are really good, and, coincidentally, are probably the most popular among kids.
The Incredibles (the original) is available to rent on Amazon, YouTube, iTunes, VUDU and elsewhere.
Incredibles 2 is on Netflix! YES!
Toy Story (the original) is officially only streaming for rent on Amazon and iTunes, but some people seem to have uploaded the full versions to YouTube which you can watch, for free, until the links are taken down. Be warned though, these are low quality and we can't actually recommend you watch the movie this way.
Toy Story 2 is available to rent on Amazon, iTunes and elsewhere. It's still "okay."
Toy Story 3 is only available to rent. YouTube and Amazon are the cheapest.
Finding Nemo is only available to rent. You're best bets are Amazon, iTunes or VUDU.
Finding Dory is only available to rent, the best bet is Amazon.
Ratatouille is available to rent only. YouTube and Amazon are the cheapest.
Wall E is streaming on Starz. So, if you have a Starz subscription with Amazon Prime, it's "free." Otherwise, you can rent it on Amazon. You can also rent Wall E on YouTube or VUDU.
Inside Out is on Amazon, but only to purchase, not to rent. Elsewhere it's 2.99 to rent on YouTube, iTunes, and VUDU. In fairness, this one is so good that you might just want to buy it.
The Decent Ones
These are the Pixar movies that are well-liked, but not beloved. That being said, they're all worth another shot.
Up is available for rent on Amazon, but free on Starz. It's also on iTunes and elsewhere. Reminder: it is very sad.
Brave is available to rent on Amazon, iTunes and elsewhere. For those of us with daughters, this one is still awesome, if only because there are still fewer female-leads in these kinds of movies than there should be.
Monsters Inc. is available to rent on Amazon, iTunes and elsewhere. A great one for kids worried about monsters in their closet, under the bed, etc. They're there, but they're nice!
The Ones You Haven't Seen
Coco is available on Netflix! It won the Oscar for Best Animated Movie last year!
Monsters University is streaming to rent on Amazon and elsewhere. Some people say you can watch this one before Monster's Inc. and it makes that movie better.
The Good Dinosaur is streaming to rent on YouTube, Amazon and elsewhere. It's no Land Before Time, but what is, really?
The Non-Classics
Not all Pixar classics are classics at all. Here's a brief guide to where to watch them anyway. In fairness, Owen Wilson is pretty funny in the Cars movies, they're just not up to the brilliance of the big ones.
Cars, Cars 2, and Cars 3
Look, the Cars movies aren't great, but, Cars 3 is on Netflix and it's not the worst. Netflix also has a collection of shorts called Cars: Mater's Tall Tales. The original Cars and Cars 2 are available for rent on Amazon.
Finally, the second Pixar movie ever, A Bug's Life is on Amazon for rental. It's not the same as Antz, which came out around the same time and is not a Pixar movie, though it kind of seems like one.
The Pixar Story
This is a documentary about the making of Pixar. For the true-believers and those who want to inspire a career in animation in their children. It's on Netflix.
At this point, the only big Pixar movie missing from this list is obviously, Toy Story 4. That highly anticipated movie is out in theaters everywhere on June 21, 2019.
This article was originally published on