'Arthur' Has Been Canceled By PBS. Long Live, Arthur!
Here's why the show was great and how you can still stream it.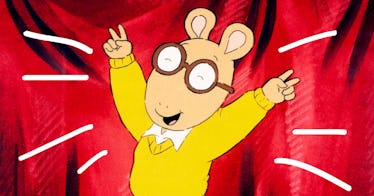 PBS
Arthur, the longest-running animated kids' series in history, is… history. The beloved PBS program which is based on Marc Brown's Arthur Adventure books has entertained millions of children for 24 years, but it's been confirmed that the end is nigh. The show's executive producer, Carol Greenwald, in an email to IGN, stated that in "the winter of 2022, the 25th and final season of Arthur will debut."
Arthur, of course, is a gregarious eight-year-old aardvark just living his life: going to school, spending time with his family, interacting with kids and adults of all ages, backgrounds, religions, sexual orientations, etc. He's been easy to like, a good role model for children, and, above all, relatable. Similarly, the animation has never been fussy or fancy. To put 25 years in perspective, Arthur debuted in 1996 and will have aired 240-plus episodes by the time it concludes. That means kids who were eight when it premiered will be 33 when it's over… and quite possibly are parents to their own eight-year-olds watching the show now.
The show is also one of the kindest and gentlest kids' series ever. In 2019, Arthur pushed for more inclusion by having Mr. Ratburn come out as an openly gay character. When this happens on newer shows, it's somewhat expected, and of course, laudable. But, because Arthur is so long-running, its progressiveness was all the more meaningful.
Nothing we love deeply is ever truly over, however. Arthur, which has earned four Emmy Awards and a Peabody Award, will continue to air on PBS Kids.
Greenwald also noted in a statement that "producer GBH and PBS KIDS are continuing to work together on additional Arthur content, sharing the lessons of Arthur and his friends in new ways."
How to Stream Arthur
Like most PBS kids' shows, there are a variety of ways to watch the archive of Arthur.
On Amazon: Subscribing to PBS Kids on Amazon Prime is probably the easiest way. This will give you the most access to older seasons.
On the PBS Kids App: The PBS Kids app always has free episodes of various shows, including Arthur. The only thing is, you don't have much choice as to what you get.
On YouTube: PBS Kids has a smattering of Arthur episodes on YouTube, too! (However, you might have to pay for some of them.)