How to Pull Off a Truly Memorable Walt Disney World Reveal
Make your child's dream to visit Walt Disney World come true with a little magic of your own.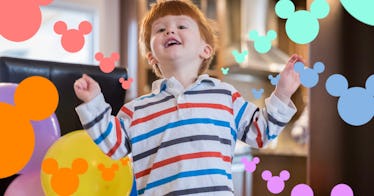 The following was produced in partnership with our friends at Walt Disney World Resort, who invite you to discover a world of magic and memories the whole family will share.
"We're going to Disney World." You'd be hard-pressed to find a phrase that elicits more excitement in your child. All their favorite characters from film and TV, the excitement of the rides, the warmth of unforgettable adventures — there's a lot to look forward to. But before the trip, there's the reveal. Think of this as a celebratory kickoff to making your little one's dreams come true, one that can be nearly as fun as the trip itself (we said nearly). Here's how to make the most of the anticipation and celebration. After all, you're going to Disney World!
Play the Disney Reveal Card Game
Grab a new deck of cards and remove the jokers and instructions cards. Paste clear glue or rubber cement over these cards. Turn the card sticky-side-down on a piece of white paper. Gently press and let dry. Now, cut out the cards. In the blank white space write the reveal on each of the cards: "You're. Going. To. Disney World!" You can add stickers of Mickey and Minnie, colorful stars, an image of Magic Kingdom® Park, and anything else that sends the message.
The day of the reveal, challenge your youngster to a card game, making sure to deal yourself the magic one. Play high-low: You put down a "5" from your hand, and they call whether the next card is higher or lower than the last. After a few rounds of matching and drawing cards, lay down your Disney reveal cards and have them read it out loud. Watch your child's face as it turns from confusion to curiosity to bliss. Disney World, here we come!
Solve the Puzzle
Buy a sturdy sheet of light-colored cardboard, about 16 inches by 16 inches. Using markers, crayons, and your inner creative genius, draw a picture of you and your child holding hands (or, if you're better at photo design, you can put together the whole thing and print it out on a color printer.) Add stickers, glitter, and whatever else feels festive, and clearly write "You're Going to Disney World!" Cut the board into 12 to 15 distinct shapes.
On the day of your reveal, invite your preschooler to join you in putting together a "new" puzzle. Watch as they work on it piece by piece, reconstructing your artwork. When the final piece is in place, read together what it says, and get ready for an emotional explosion.
Throw a Scavenger Hunt
Create 10 clues that lead kids from one room to another. Rhyming is always fun, and so are colorful stickers or sketches that hint at what's to come. Here are some examples:
Your first clue is in your shoe.
Rub-a-dub-dub, next clue's in the tub!
We're taking a trip: To where? You must guess! Find the next clue on your favorite dress!
Someplace warm and someplace sunny. The next clue you'll find with your favorite stuffed bunny.
"Are you ready to visit your favorite place? The trip we're taking is in your suitcase!"
Inside, pack a few Disney-related items (Mickey Mouse ears, Disney-themed shirts, and so on), along with a sign that reads "We're going to Disney!"
Now that you've completed the fun part, it's time to get packing. Start planning your trip now!