How to Make Slime
Exploring a counter-culture that your kids are probably already obsessed with.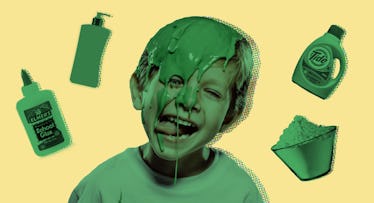 Nickelodeon made slime the closest thing America had to a celebrity fluid in the nineties. The stuff they dumped on celebrities was notoriously viscous and gross, but kids love it so celebrities relented to publicists' demands and ruined their outfits. Now, slime is back ten-fold, with famous slime-makers populating must-follow Instagram feeds and slime recipes wallpapering the squishier parts of the internet. Young kids these days can't get enough of goo and are taking their enthusiasm in new and increasingly innovative directions. Dad, they say, "I want to know how to make slime."
"Huh?" says dad.
But, yeah, the easiest way to make slime is actually really easy and the process, regardless of how you attack it, is super doable. You just have to have a recipe–or three.
Nickelodeon Slime
Combine equal parts as needed of:
After you've mixed copious quantities of the ingredient, head outside for fun. It's important to note that Nickelodeon Slime is best handled in warmer months because it gets everywhere and someone is going to need to get hosed off. Also, it freezes.
Fluffy Slime
If you're looking for a slime recipe that won't leave your backyard looking like Reptar puked on it, look no further than a basic "fluffy slime." The trick to this slime is the baby oil – it makes it less sticky and way easier to manipulate. It's also extra-customizable: you could add glitter and purple dye to make it look like a galaxy, bright blue coloring with white microbeads to make it look like clouds in the sky or anything you want. It also won't go bad like the Nickelodeon slime, so you can keep it in the play-pen for a few weeks. Unlike a lot of slime recipes that require hard-to-find ingredients like Borax, this basic slime can be made with stuff that likely already exists in your house: shaving cream, Elmer's glue, food coloring, baking soda, saline solution, and baby oil.
In a bowl, combine
1/2 a cup of Elmer's glue
3-4 drops of the food coloring of your choice, then stir to mix
3-4 cups shaving cream
a sprinkle of baking soda, then stir to mix
1 tablespoon of saline solution
Mix thoroughly and add a small amount of baby oil
Voila! You've got fluffy slime. Rejoice.
Butter Slime
The new-school slime craze these days is all about butter slime, a slime that is so soft that it literally looks like butter. It even has knife-marks when spread! It was invented by an entrepreneurial Instagram user and maybe the perfect slime for a prank on someone in the family. There are a ton of different recipes on the internet that you can test for yourself, but in the interest of cheapness and convenience, I like Katherine Elizabeth's recipe.
In a bowl, combine
1 cup of cornstarch
1 cup of shampoo, any kind, and mix until doughy
1 4 oz. bottle of Elmer's glue
1 tablespoon of lotion, any kind
yellow food coloring (to imitate butter) and mix
1 cup of detergent, slowly poured and mixed
Mix until slime pulls away from the bowl. Knead and you're done!
The only issue with this recipe is you have to make sure that you add the detergent slowly and conservatively – too much detergent, and the butter becomes rock-solid.
This article was originally published on