How 'The Fairly Oddparents' Cast Resurrected a Cult Classic Kids' Show
The 1997-2001/2001-2017 series has been reborn in a fairly odd way. Here's how it happened.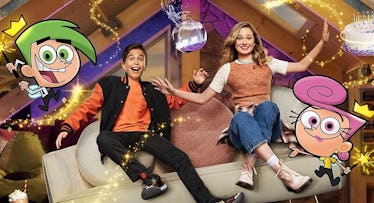 Credit: Paramount+
The Fairly Oddparents are back, and they're fairly odder. That's actually the name of the new Nickelodeon/Paramount+ sequel series that started streaming today… The Fairly Oddparents: Fairly Odder.
Sound familiar? You remember the OG animated series, which ran for a total of 10 seasons between 2001 and 2017, after beginning life as part of Oh Yeah! Cartoons from 1997 to 2001. The old show centered on Timmy Turner (Tara Strong), a 10-year-old who lived in Dimmsdale, California. His parents overlooked him and his babysitter, Vicky (Grey DeLisle), was pretty mean. And into Timmy's life came Cosmo (Daran Norris) and Wanda (Susanne Blakeslee), fairy godparents who granted Timmy his every wish. Of course, wishes had consequences, some good and some bad. Laughs were had and lessons were learned. Also, a trio of Fairly Oddparents telemovies aired in 2011, 2012, and 2014 that mixed live-action and animation and starred Drake Bell as Timmy.
Now, in The Fairly Oddparents: Fairly Odder, Ty Turner (Ryan-James Hatanaka) returns to Dimmsdale to reunite with his high school sweetheart, Rachel Raskin (Laura Bell Bundy). Their dance-happy marriage makes Ty's cautious daughter Viv (Audrey Grace Marshall) and Rachel's boisterous son Roy (Tyler Wladis) stepsiblings. Luckily, Viv's cousin Timmy Turner (Caleb Pierce) is there to help. Ty, Rachel, Viv, Roy, and Timmy – who is a grown-up — are all live-action characters. Played to the hilt, they feel like they've escaped from a cartoon. Roy catches Timmy introducing Viv to Wanda and Cosmo – both of whom are animated and voiced once again by Blakeslee and Norris — and Wanda and Cosmo are almost immediately granting wishes to both kids. Roy and Viv must learn how to share the magic, avoid being greedy, work together, and not over-wish. Additional characters include Zina (Imogen Cohen), a kid who has a crush on Roy and befriends Viv, and Dustin (Garrett Clayton), a major pop star.The Fairly Oddparents: Fairly Odder is now on Paramount+ with a 13-episode first season. Fatherly recently caught up with Hatanaka, Bundy, Wladis, Marshall, Norris, and Blakeslee and they filled us on their Fairly Oddparents experiences.Blakeslee and Norris Are Thrilled to Be Back "I hear a lot about people who have grown up with the show, and they're fully-formed adults now," Blakeslee says. "I started the show when I was 12 and you were 10, something like that, right Daran? (Laughs). It's really wonderful that people still talk about the impact that the show has had on their lives and how much they enjoyed the milestones of their lives as they watched it growing up. The show celebrated people who don't fit in very well. Timmy didn't fit in very well, and on this show, Viv doesn't fit in very well. It celebrates the idea that a kid can be themselves and be celebrated for that."How does it make me feel to know that there are mid-20-year-olds who grew up watching the show?" asks Norris, who also played Gordy the janitor on Ned's Declassified School Survival Guide. "Wow! That makes me feel ancient. No, not really. I love what you said, Susanne. I think that the show had legs and has been around as long as it has because of that take on not fitting in — and getting help from other people to make your way. Just the fact that the writing was so consistently great. Not to mention the fact that we had a terrific cast the entire time. We had a lot of fun doing this (new) show. We had so much fun recording these episodes. I'm pretty sure that that shines through. The fun that we had in the booth comes through in the show."High-Energy ParentsTy and Rachel are madly in love with each other, with life, and with their kids, if just a bit oblivious, and they want Viv and Roy to get along and make their family something like a smaller Brady Bunch. And, Ty and Rachel are constantly dancing at home and at the dance studio they run."They both do lead with love," says Hatanaka, best known for the shows Nancy Drew and When Hope Calls. "They really do. They are so wanting this family to be the best family possible, but as most parents do, they have some limitations and oddities.""Some of it is that these two characters were high school sweethearts," notes Bundy, who starred in the original Broadway productions of Hairspray and Legally Blonde. "They lost touch and they found each other again. Rachel and Ty are so into each other and so excited about the opportunity to rekindle this relationship that they are sort of off on their own planet. They have all these dreams for themselves now, and they're getting a new chance and a new lease on life. You see them having that and getting carried away with how much fun that is. Then they're like, 'Oh, we've got children. Oh, right. We have children. What do you need?' It's like that, but I do think they're fun. They're fun parents, doing parades and doing dance competitions. They're getting their kids involved in things, and they get involved in their kids' things. Rachel and Ty are also just as silly and as strange as the fairies.""We had so much fun," adds Hatanaka. "Kids are going to love this show. And I really think that parents of the kids watching the show are also going to love it. We had so much fun growing the jokes and enjoying that process. Our leaders, Chris Nowak and Sam Martin and the whole executive team, they gave us the freedom to explore these moments and try to make people laugh."Becoming Siblings"Our characters are very similar to ourselves," says Marshall, who also plays (exceptionally well) the younger version of Kaley Cuoco's character on The Flight Attendant. "Viv, she's an old soul. She's very level-headed. I don't think there are any differences between us. Roy is the opposite of Viv. So, it's cool to see everyone become a family with these crazy Dimmesdalians.""Roy is this energetic, cool, athletic guy that everyone wants to hang out with," notes Wladis, whose credits include several regional theater productions and FOX's A Christmas Story Live! "He can dunk, and he just wants the best for his stepsister, Viv. He is very kind."Wladis makes an important point. Roy takes an instant, non-romantic liking to Viv. In fact, he makes her promise not to leave. Given his popularity, he doesn't need her in his life. He wants her in his life, which is really pretty sweet and to the show's credit."Every single day of Roy's life is the same," Wladis explains. "'I do this and do that. Everyone cheers me on.' He wants something different. He feels like Viv is the most different thing in all of Dimmsdale because everyone here is crazy and Viv's the only normal one. He really needs that, and he loves Viv for that."The Fairly Oddparents: Fairly Odder is streaming now on Paramount+.