'How I Met Your Mother' Sequel TV Show Will Now Explain How She Met Your Father
A question nobody had is about to be answered.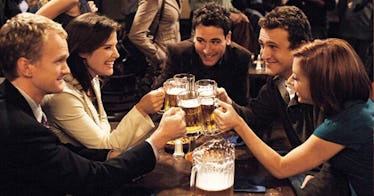 20th Television
TV spin-offs excel at answers questions we never thought he had. Such as, I wonder what it would be like if Scarlet Witch and the Vision lived in a sitcom together? Or, what if some Boba Fett-looking dude had to adopt a Baby Yoda? And now, the next TV sequel has the answer to an unasked question right in the title: How I Met Your Father.
Yep! How I Met Your Mother is getting the sequel treatment, with a follow-up for Hulu starring Hilary Duff. The heads of television viewers of a certain age may explode at the news, as Duff's Lizzie McGuire was must-watch, Disney Channel-in-its-prime family viewing during its run, from 2001-2004, while How I Met Your Mother ruled as a zeitgeist-y, top-rated sitcom from 2005 to 2014. And, interestingly, Duff is only available because her long-running show, Younger, just ended and her intended next project, a Lizzie McGuire reboot, fell apart shortly after it began production.
According to Variety, How I Met Your Father casts Duff as Sophie, who "is telling her son the story of how she met his father: a story that catapults us back to the year 2021 where Sophie and her close-knit group of friends are in the midst of figuring out who they are, what they want out of life, and how to fall in love in the age of dating apps and limitless options." Not yet disclosed, and something that HIMYM fans will be eager to hear is whether or not anyone from HIMYM will return for HIMYF or if the new series will bear any connections at all, story-wise, to its predecessor. It's not impossible, for the simple reason that HIMYM creators Carter Bays and Craig Thomas are participating in the upcoming show as executive producers. They'll be joined by HIMYF co-creators Isaac Aptaker and Elizabeth Berger, who co-created Love, Victor, and served as showrunners on This Is Us. Duff will also be on board as a producer."I've been incredibly lucky in my career to play some wonderful characters and I'm looking forward to taking on the role of Sophie," Duff said in a statement. "As a huge fan of How I Met Your Mother, I'm honored and even a little nervous that Carter and Craig would trust me with the sequel of their baby. Isaac and Elizabeth are brilliant, and I can't wait to work alongside them and all of their genius. Just fangirling over here getting to join the Hulu Originals and 20th families. I realize these are big shoes to fill and I'm excited to slip my 6 ½'s in there!"And for How I Met Your Mother trivia fans out there, the upcoming show isn't the first time someone tried to mount a spin-off. Back in 2013, Greta Gerwig starred in, co-wrote, and (with Thomas and Bays) co-produced How I Met Your Dad, a pilot that CBS declined to pick up to series. Meg Ryan was on board as the narrator.Hopefully, the super-inventive new title will lead to better results this time!