Catch This Early 2000s Vintage Family Reboot On HBO Max ASAP
A family reboot done right.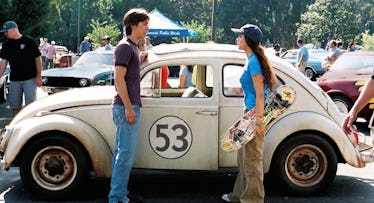 Credit: Disney
It understandably got lost amidst much bigger and more important news of tlate, but Lindsay Lohan is making a comeback. She just wrapped Falling for Christmas, an upcoming movie for Netflix, and the streamer announced that it had signed Lohan to a new two-picture deal. That news comes on the heels of a well-received bit of self-deprecation in an amusing Planet Fitness commercial that ran during the Super Bowl. And all of that is on top of the happy announcement that Lohan – who lives mostly out of the limelight these days in Dubai — got engaged in November of 2021.
Many of us – or many of our kids – grew up with Lohan. She exploded onto the scene in 1998 with The Parent Trap. She was 12 years old. That was followed by Life-Size, Get a Clue, Freaky Friday, Confessions of a Teenage Drama Queen, and Mean Girls. Lohan was a Disney teen queen, a bona fide star with a bright, bright future ahead of her. She could really act, excelling at drama and comedy, and she sang, too. And then it fell apart. Lohan has spent much of the past 15 years in Hollywood purgatory, the result of bad film choices (Just My Luck, Georgia Rule, I Know Who Killed Me, Labor Pains, The Canyons, etc.), questionable behavior on sets, arrests, substance abuse issues, mounting debts, and so on. If at 35, she's in a good place now, content in her personal life, and working her way back into good projects, that's great. Really, who doesn't love a redemption story? So, it made us smile when we saw that Herbie: Fully Loaded is on HBO Max, though it's leaving March 31. We can't recommend Fully Loaded enough, for both its historical context when it comes to Lohan and its own merits as a film. Released in 2005, it was Lohan's final film for Disney, her last major box office hit, and the most recent showcase for her full range of talents. She's utterly charming as Maggie Peyton, a talented car racer who rescues Herbie – a Volkswagen Beetle — from a junkyard, only to realize Herbie is a super-car with a lot of spunk, more than a little attitude, and some unusual powers. Lohan even had a minor hit with her tie-in song and video, "First," which plays over the film's end credits and can be found on the Fully Loaded soundtrack.Fully Loaded is a surprisingly good family film that captures the offbeat spirit of Disney's original Herbie films, which kicked off in 1968 and Dean Jeans as Jim Douglas (basically the role Lohan plays). Director Angela Robinson, who was in her early 30s and got the gig on the strength of her feature debut, D.E.B.S., went on to direct the fabulous Professor Marston and the Wonder Women, as well as dozens of episodes each of True Blood and How to Get Away with Murder. Plus, Fully Loaded co-stars Matt Dillon and Michael Keaton, another factor making it worthwhile for kids and parents alike. The screenplay is credited to a unique quartet of talents… who work in pairs. Thomas Lennon and Robert Ben Garant co-wrote the Night at the Museum movies as well as the cult classic, Balls of Fury, and the long-running show, Reno 911!, while Alfred Gough and Miles Millar co-created and wrote Smallville and The Shannara Chronicles. Moviegoers who enjoy Easter eggs will find Fully Loaded, well, fully loaded with them. We won't spoil them all, but here are two examples. Maggie pays $75 to buy Herbie. That's the same amount that Jim Douglas paid for Herbie in the original film. And be sure to closely watch the junkyard scene, especially if you're a Fast and Furious fan. That's because Dom's beat-up Charger (with the number 86 on it) makes a cameo appearance. Anyway, Fully Loaded is Lohan's movie, and if her comeback efforts capture even a fraction of the spark and star power she displayed here, then we're in for an exciting second act.Herbie: Fully Loaded is streaming on HBO Max. It leaves on March 31.