HBO Max Will Yank Big Movies Like 'Godzilla Vs. Kong' After 30 Days
Get your Kong on while you can.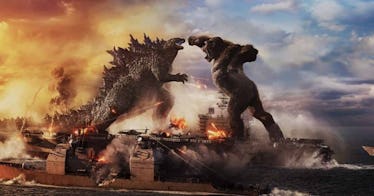 Warner Bros. Pictures
It's still happening. Despite a loud outcry from some of the biggest stars, filmmakers, and production companies in the entertainment game, AT&T, WarnerMedia and HBO Max are following through with their plan, announced in December, to premiere the entire 2021 slate of Warner Bros. movies day and date in theaters and on HBO Max, with the movies available on the streamer for 30 days. Need proof? A brand-new trailer — below — features snippets from Dune, The Little Things, The Suicide Squad, Mortal Kombat, The Many Saints of Newark, Judas and the Black Messiah, Tom & Jerry: The Movie, Godzilla vs. Kong, Those Who Wish Me Dead, The Conjuring: The Devil Made Me Do It, In the Heights, Reminiscence, Cry Macho, King Richard, Space Jam: A New Legacy, and Malignant. So you'll see flashes of Kong and Godzilla duking it out, Michael Gandolfini (James Gandolfini's son) as young Anthony Soprano, Margot Robbie's Harley Quinn noshing on an apple, Will Smith as Richard Williams, a proud dad extolling the future of tennis icons Serena and Venus, Clint Eastwood apparently crying (or at least walking) macho, Timothee Chalamet letting sand sift through his fingers, Hugh Jackman raising a toast, and more. Interestingly, there's no footage from the fourth Matrix adventure, just a title card.
HBO Max officially kicked off its Warner movie-a-month juggernaut in December with Wonder Woman 1984, though one might argue it began with The Witches, starring Anne Hathaway. Up next, on January 29, is The Little Things, a crime drama that brings together Oscar winners Denzel Washington, Jared Leto, and Rami Malek. It's all been a reaction to the pandemic, of course, with the idea being to support the newly launched HBO Max via top-tier content rather than AT&T counting entirely on Warner Bros.' theatrical releases for revenue when cinemas nationwide are either shut down or hosting limited numbers of people. The move ticked off the likes of longtime Warner Bros. collaborator, Dark Knight trilogy director Christopher Nolan, as well as the production entity Legendary, and Dune director Denis Villeneuve, too. However, AT&T sounds comfortable with its controversial strategy. During a January 27 earnings call, AT&T CEO John Stankey deemed the delayed films "a little bit of a spoiling asset," and defended the hybrid HBO Max-theatrical premieres as "the right call," one that gives everyone involved "an opportunity to make lemonade out of lemons."
And it's tough, at least short-term, to argue with the results. Stankey didn't share ratings or viewership numbers for Wonder Woman 1984, however, AT&T credited WW84 with helping HBO Max double subscriptions in Q4 2020 to 17.2 million vs. Q3. That's a win for them and perhaps an even bigger win for all us at home desperately seeking entertainment for ourselves and our families.