'Dark Knight' Director Is Furious About HBO Max — But Should You Be?
HBO Max's 2021 line-up benefits families. Should we care about the movie business?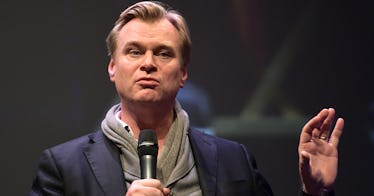 Getty
HBO Max will stream Warner Bros.' entire slate of 2021 films, which will thrill families stuck at home during the pandemic or – assuming the imminent vaccines do their job – still skittish about seeing movies in an actual movie theater once inoculations begin in earnest. If you already subscribe to HBO, then you get HBO Max, which means you can watch — on your living room or bedroom TV, on your laptop or on your cellular device – the likes of Wonder Woman 1984, The Little Things, Judas and the Black Messiah, Tom & Jerry, Godzilla vs. Kong, Mortal Kombat, Those Who Wish Me Dead, The Conjuring: The Devil Made Me Do It, In The Heights, Space Jam: A New Legacy, The Suicide Squad, Reminiscence, Malignant, Dune, The Many Saints of Newark, King Richard, Cry Macho, and Matrix 4. And unlike what Disney did when they debuted Mulan on Disney+, making it available for a fee as a premium on-demand title, the Warner Bros. films won't come with an upcharge. In fact, it's vital to note, the films will also open in theaters the same day they premiere on HBO Max and will only stream on HBO Max for a month.
Sounds great, right? Everyone's ecstatic, right?
Hmmm, most definitely not Christopher Nolan, the director of such Warner Bros. extravaganzas as The Dark Knight, Inception, and Tenet. More on him in a moment. First, many of these films were made for the big screen, in some cases IMAX-big. Your iPhone won't do Matrix 4 much justice. Several of them cost upwards of $200 million to produce. How will financiers earn back their investments if people can enjoy the films at home instead of the local theater? All of them were labors of love that hundreds of people toiled on for months and months, years, even decades. They surely want that work to shine on the silver screen. More than a few people involved are profit participants and stand to lose significant sums if their films don't play in the full spectrum of American theaters. And, speaking of theaters, consider the countless millions of dollars, possibly billions of dollars, that teetering industry won't rake in as a result of the films' limited theatrical availability. And we're not only talking about, for example, AMC as an entity, but also the ticket takers and ushers and kids at the concession stands who can't earn a paycheck or as large a paycheck because their local multiplex either didn't reopen or hemorrhaged customers that preferred to stay home and screen the desired movie.
Clearly, Warner Bros., WarnerMedia, and parent company AT&T had reasons for making the choice they did. The backlog of films would have gotten silly, not just for Warner Bros., but for all the major studios, and the films would cannibalize each other if released theatrically one after the other whenever the pandemic ends and moviegoers swarm back to theaters. Some of the films were bound to earn more money internationally than domestically anyway, so why hold back releases overseas? And if they open overseas, then showing them on HBO Max mitigates the impact of piracy, or so the theory suggests. Further, a number of these productions likely have marketing partners – car companies, watchmakers, etc. – with promotional activities that simply can't wait any longer to be implemented. And, to be sure, WarnerMedia saw an opportunity to provide a steady flow of must-see content for the fledgling – and reportedly struggling — HBO Max. What makes sense short-term, however, could have game-changing long-term ramifications, even though Warner Bros. execs have stated this is a one-off reaction to the pandemic and that their 2022 slate will open in theaters. However, theaters may never recover. Academy Award considerations could take a hit. Film budgets could be affected going forward. Filmmakers and actors might think twice about committing to Warner Bros., which apparently made their unilateral moves without consulting the talent involved. Now to the powerful and respected Christopher Nolan, a longtime Warner Bros. collaborator, who is clearly peeved. "Some of our industry's biggest filmmakers and most important movie stars went to bed the night before thinking they were working for the greatest movie studio and woke up to find out they were working for the worst streaming service," Nolan said in a statement to The Hollywood Reporter. "Warner Bros. had an incredible machine for getting a filmmaker's work out everywhere, both in theaters and in the home, and they are dismantling it as we speak. They don't even understand what they're losing. Their decision makes no economic sense, and even the most casual Wall Street investor can see the difference between disruption and dysfunction."Already, fights are a-brewing. Talent agencies are livid. The writers' and directors' guilds may push back. Production companies are reportedly eyeing lawsuits. Where will the chips fall? We are in uncharted territory here. In the meantime, don't be surprised if at least a few of the 17 films in question get bumped to 2022. This much Fatherly knows for sure: On Christmas Day, we'll be home, fireplace roaring, the dog sleeping on the couch, a glass of wine in hand, watching Wonder Woman 1984. So, thanks?
This article was originally published on