HBO Max's New 'Looney Tunes' Are Going for Some Surprising Deep Cuts
The new cartoons deliver on the big characters you know, but random ones, too.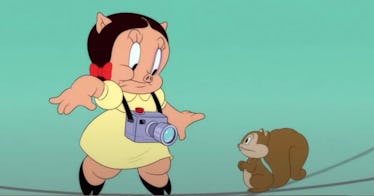 Petunia Pig and The Gremlin are back! Wait. Are you confused as to who we're talking about? With a new round of Looney Tunes cartoons, HBO Max is bringing back some deep cuts. Two new Looney Tunes Cartoons debuted on Thursday, April 29, with some full-length dedicated shorts, "Pigture Perfect" and "High Speed Hare." Here's what's going on with these shorts, plus a few clips to watch right now.
"Pigture Perfect" finds Petunia Pig out to snap a new picture that'll be perfect for her fireplace mantle, but her photoshoot goes just a little nutty. And then there's The Gremlin, who returns in "High Speed Hare," in which he causes all sorts of havoc for Bugs Bunny, who's out shopping for a self-driving car.
The Gremlin is voiced by Bob Bergen, who has done the talking for Porky Pig and Tweety Bird in numerous animated projects, including the original Space Jam and the upcoming Space Jam: A New Legacy. He also voiced the Winter Soldier in 2014's Avengers Assemble. As for Petunia Pig, she's voiced by Lara Jill Miller. Men of a certain age will remember – and probably had a crush on – Miller. She played Sam on the classic 80s sitcom, Gimme a Break!
The rest of the current Looney Tunes cast includes Eric Bauza as Bugs Bunny/Daffy Duck/Tweety/Marvin the Martian; Jeff Bergman as Elmer Fudd/Sylvester; Fred Tatasciore as Yosemite Sam; Candi Milo as Granny; and Michael Ruocco as Beaky Buzzard.
You can watch these new Looney Tunes — and the entire backlog of old Looney Tunes — on HBO Max right here.