The Dune Must Flow: Every HBO Max 2021 Streaming Release Date
Wonder Woman: 1984 is just the beginning.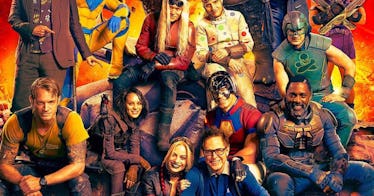 The massive cast of 'The Suicide Squad' with director James Gunn. (Credit: Empire Magazine and Warner Bros.)
Your remember how sometimes when you'd go to a hotel room, that occasionally, they'd have movies that were still in theaters? Yeah, that's gonna happen for like a bunch of regular movies, for everyone, and you don't have to go to a hotel. At least half of the cool movies you've been looking forward to either this year or in 2021, will all be streaming at the same time those movies are released theatrically. We knew about Wonder Woman: 1984 hitting HBO Max this Christmas, but Warner Bros and HBO are keeping the ball rolling with a bunch of other movies in 2021. Here's what's happening.
Starting with Wonder Woman 1984, HBO Max will stream a slew of new Warner Bros titles on the same day those films are released theatrically. So, yes, this means, if you want to see Dune on its new release date on October 1, 2021, you can either go to the movie theater or, you can watch it on HBO Max. (This means you have to sign-up for HBO Max, by the way, which does cost $14.99 a month.) Are HBO Max and Warner Bros using the COVID crisis and people's shakiness about movie theaters to push people into getting an HBO Max subscription? Sure looks like it! Is that a bad thing? Nope!
Look, here are all the movies HBO Max will be streaming next year (and this December), which, if it were any other year, you'd have to go to the theater to see. Any way you slice this, this is a good deal.
Anyway, when does all of this happen? Well, for right now, this is what it looks like.
Current HBO Max/ Warner Bros Release Dates (Subject to change)
December 25, 2020: Wonder Woman 1984
March 5, 2021: Tom and Jerry
March 12, 2021: The Many Saints of Newark (The Sopranos prequel)
May 21, 2021: Godzilla Versus Kong
June 18, 2021: In the Heights
August 6, 2021: The Suicide Squad
October 1, 2021: Dune
December 22, 2021: The Matrix 4
Release dates unknown
Judas and the Black Messiah
The Conjuring: The Devil Made Me Do It
Malignant
Those Who Wish Me Dead
King Richard
Space Jam: A New Legacy
Reminiscence
The Little Things
Mortal Kombat (reboot)
This article was originally published on