'Hawkeye' Episode 2 Ending Explained: Who Is Echo?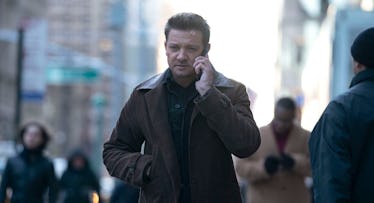 Jeremy Renner as Clint Bishop in Marvel Studios' HAWKEYE. Photo by Mary Cybulski. © Marvel Studios 2021. All Rights Reserved.
It looks like Hawkeye has already set up its next spin-off. At the very end of Episode 2 of Hawkeye, we meet a mysterious figure. But who is she? And what's going to happen next? Here's the significance of that person we meet in the final moments of Hawkeye Episode 2, and what to expect from her going forward. Spoilers ahead!
The last person we see at the end of Hawkeye Episode 2 is actress Alaqua Cox. And, during Disney+ Day, it was revealed that Cox was getting her own Marvel spin-off show called Echo, starring her as the titular character. But who is Echo? And what is she doing on Hawkeye?
Echo in the Marvel comics explained
Although we see Echo aligned with some bad people in the second episode of Hawkeye, the character is actually a hero in the comics. And, because we're getting an Echo TV series on Disney+, it's a good bet that at some point, she's going to align herself with Hawkeye, rather than against him.
In the comics, Echo is a deaf superhero, who originates in 1999 Daredevil comic books. (Although she didn't appear in the Daredevil Netflix series, there is some reason to believe Daredevil himself may be incorporated back into the MCU thanks to the next Spider-Man movie.)
Anyway, in some comics, Echo takes up the mantle of Ronin, the murderous alter-ego of Hawkeye himself. And, because much of this series has centered on Hawkeye trying to get that pesky Ronin suit and sword back, it seems possible that Echo may end up becoming Ronin in this series, too. There's also a chance that Echo could become a part of the Avengers, which has happened in the comics, too.
Either way, Alaqua Cox — who is deaf in real life — is making history as Marvel's first onscreen deaf character. And if Hawkeye goes the way we think it will, she'll end up being the MCU's first deaf superhero, and possibly, a bigger-deal Avenger than Hawkeye himself.