Harry Styles' "Watermelon Sugar" Is Based On Your Favorite Boomer-Dad Novel
Did you think the summer of 2020 would have anything to do with Richard Brautigan books you read in college?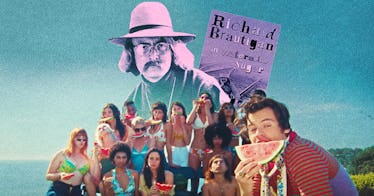 Getty / Four Seasons Foundation
The kids are all right. No for real. As someone who is pushing 40, I never thought I'd say this, but the current state of pop music is pretty comforting for olds like me. Last month, Taylor Swift made a play for Dad Rock fans, and now Harry Styles — formerly of the boy band One Direction — has found success with a smash hit song improbably based on a novel that a bunch of us olds probably read in our dorm rooms or crappy first apartments. The catchy radio-friendly song "Watermelon Sugar," is directly based on the boomer-dad novel In Watermelon Sugar, written by beat-generation author Richard Brautigan.
Despite Styles having released this song initially in 2019, and Richard Brautigan having published the novel in 1968, the song "Watermelon Sugar," is suddenly the number 1 song on the Billboard Charts in the US.
This means if you were a spring-breaker, this would make "Watermelon Sugar" the song of the summer. If you listen to the lyrics and watch the video, this seems like a pretty innocent (and shallow?) pop song. But, because Styles claims to have been inspired by the Brautigan novel, it seems like the popularity of this song could be more dystopian than it seems. To put it another way, Harry Styles having a hit song in 2020 called "Watermelon Sugar" is a little like if Katy Perry suddenly had a hit song called "Cat's Cradle" and she cited the Kurt Vonnegut novel of the same name as an influence. That's how weird this is.
The Brautigan novel is a low-key sci-fi dystopia, set in a weird world in which everyone makes everything about of Watermelon Sugar. (Imagine the "spice" in Dune, but you use it to build your house.) Depending on the day they were planted, the watermelons exhibit different properties, including one variety that is utterly soundless. There's also a place where everyone lives called "iDeath" which, you could argue is a weird critique of Apple, that happened like twenty years before Apple existed. The word of In Watermelon Sugar, if you squint, is what the world might look like in some kind of post-apocalyptic future actually happened but was also mostly good. This makes it doubly weird that this song is blowing up during the pandemic. "I don't know if could ever go without…watermelon sugar" might not be the most profound thing ever, but it is catchy as hell and simultaneously haunting. Nice job Harry Styles! You've turned one of my favorite books into a dance song and I don't hate it!
Brautigan was considered, in his time, to be the "last of the beat generation," which means it might be easy to label him as an old out-of-touch boomer. But, when you read Brautigan, you will remember that he is mostly just a funny poet who liked writing really weird novels. Calling In Watermelon Sugar a beach read would be wrong because it has some really freaky stuff that happens, especially at the end. But, if you've heard Harry Styles on the radio recently, and you want to get in touch with the cool kids in your own un-cool way, maybe consider rereading In Watermelon Sugar. Worst case, you'll be confused. Best case, you'll love it.
This article was originally published on