Halloween on Netflix 2020: What's Good For Kids and What's Good For After Bedtime
Ready to get spooky on the couch? Family friendly — and not-so-family friendly — titles are coming to Netflix this Halloween.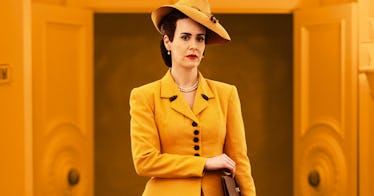 Cooler weather is finally on the way and — thank goodness — Netflix's programming over the next month and a half is taking the hint. Starting on Tuesday, September 8 and stretching all the way up to All Hallow's Eve Eve, the streaming giant is launching spooktastic films and television shows for the Autumn enthusiasts among us. So, grab some hot cocoa, some candy, and some witches' brew and get ready to have some fun. The new films include sequels, brand new Netflix originals, including the promised worst-movie-ever from Adam Sandler, and a spinoff of the classic 1970's film One Flew Over the Cuckoo's Nest. But, personally, I'm most excited for Vampires v. The Bronx, a horror comedy film about a group of teens fighting vampires, and the sequel to The Babysitter, the overlooked, but very funny comedy horror film where a thirteen-year-old with a crush on his babysitter realizes his babysitter is actually trying to kill him.
Here's what's hitting Netflix for Halloween over the next few weeks. Buckle up for the frightfest! And to be clear — much of what's being pushed on the platform is not for your kid. It's just for you.
Here is the complete list of Netflix shows and movies coming to the service in the month of September and October, divided by what's family friendly — and what is decidedly not. Netflix Originals are in bold.
Here's What's Good For The Kids
October 1
The Worst Witch: Season 4
October 2
A Go! Go! Cory Carson Halloween
October 6
StarBeam: Halloween Hero
October 9
Super Monsters: Dia de los Monsters
October 13
The Last Kids on Earth: Book 3
Here's What's Good After Bedtime
September 8
#Alive
September 10
The Babysitter: Killer Queen
September 16
The Paramedic
September 18
Ratched
October
La Révolution
October 1
Oktoberfest: Beer & Blood
The Worst Witch: Season 4
A.M.I.
Cape Fear
Evil: Season 1
House of 1,000 Corpses
We Have Always Lived in the Castle
October 2
A Go! Go! Cory Carson Halloween
The Binding
Vampires vs. The Bronx
October 6
StarBeam: Halloween Hero
October 7
Hubie Halloween
To the Lake
October 9
The Haunting of Bly Manor
Super Monsters: Dia de los Monsters
October 14
A Babysitter's Guide to Monster Hunting
October 16
The Last Kids on Earth: Book 3
Unfriended
October 18
ParaNorman
October 19
Unsolved Mysteries: Volume 2
October 21
Rebecca
October 22
Cadaver
October 28
Nobody Sleeps in the Woods Tonight
October 30
The Day of the Lord
His House