This Map Shows Each State's Top Kids Halloween Movie
Those meddling kids are still going strong.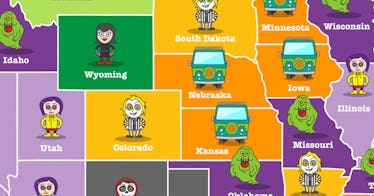 USDish
We've settled into our back-to-school routine. And now, before we head into holiday season, we have Halloween to celebrate. Which means it's time to solidify the Halloween movies we're going to watch with our kids. If you're not sure what to watch, we have a new map that shows each state's top kids Halloween movie. Take a look.
USDish, an authorized reseller of Dish, wanted to find which kid movies were the most popular around the country. So, in order to find out, the company gathered a list of kid movies, rated from PG to G. After collecting all the titles, they used SEMRush to find the movies with the highest keyword search ranking.
From USDish, they popped the movies into Google Trends and narrowed down the most searched movie in each state. "Will your state watch the meddling kids in Scooby-Doo or try saying 'Beetlejuice' three times to make the famous poltergeist appear?" was what USDIsh was hoping to answer.
After collecting all the data, sorting, and organizing, all the information was put into a handy map showing each state's favorite. And there are a few surprises that we didn't see coming.
For example, the movie that takes the title of top kids Halloween movie is Scooby-Doo, which was named as the top spot in 13 different states including Alabama, Alaska, Louisiana, and Ohio.
Coraline landed in second place after being named top searched in 11 states including New York, Utah, New Jersey, and Michigan.
Other titles that made the list include Beetlejuice; a favorite in five states, Hocus Pocus; a favorite in four states, Ghostbusters; a favorite in eight states, The Witches; a favorite in District of Columbia, ET; a favorite in four states, Halloweentown, a favorite only in Oregon, Hotel Transylvania; a favorite in Wyoming, The Addams Family; a favorite in Montana, and Coco; a favorite in Texas and New Mexico.
Perhaps the one that was the most surprising was Gremlins, which was named the most popular in North Dakota. The movie is 30 years old and it seems to still be going strong, at least in that state. We're going to guess it's the nostalgic parents who are suggesting to watch Gremlins. Either way, this is full of fun movies to add to our own queue this month.