This Hack Lets You Watch 'Godzilla Vs. Kong' For Free On HBO Max
Watch two of the greatest movie monsters of all-time duke it out.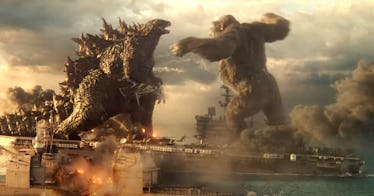 WB
Starting tomorrow, you can watch two of the greatest movie monsters of all-time duke it out on screen without having to leave your couch, as Godzilla vs. Kong will be available to stream on HBO Max for 31 days.
If you do not have HBO Max, you can sign up now for $14.99 per month. Unfortunately, there is no free trial for the streaming service (though you can get a week free by trying HBO Max as a Hulu add-on if you are a new customer, just remember to cancel it before the week is up).
However, if you would like to avoid paying altogether, you can still get HBO Max for free by subscribing to one of AT&T's unlimited phone, TV, and internet plans. To activate HBO Max as an AT&T customer, simply download the HBO Max app and then sign in using your AT&T or DIRECTV log-in information, which should get you set up on the streaming service without having to pay a dollar.
Godzilla vs. Kong is shaping up to be one of the biggest blockbusters of the year so far. The highly-anticipated showdown is the fourth film in Legendary's Monsterverse, which includes two previous Godzilla films and 2017's Kong: Skull Island. Godzilla vs. Kong, which stars Alexander Skarsgård, Millie Bobby Brown, Rebecca Hall, and Brian Tyree Henry, has received mostly positive reviews from critics, as it currently has an 80% approval rating from critics on Rotten Tomatoes. While most viewers will likely watch from home, Godzilla vs. Kong will also be playing in select theaters around the country.
Godzilla vs. Kong will hit HBO Max on March 31, 2021.