Grover's Internal Psyche Was Horrifying in These Vintage 'Sesame Street' Books
'Sesame Street' is a nice place, but the sweetest monster in town is having a rough time.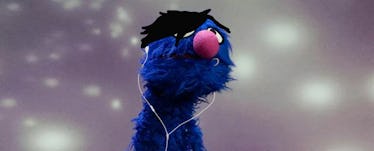 Sesame Workshop via CBS Interactive; Fatherly Illustration
In the '70s, Sesame Street books didn't have to worry about test audiences or smart-ass comments on social media and were consequently much freer to use the classic television show's coterie of lovable puppets to teach important lessons about tough subjects. The best, deepest Sesame Street books — which I have immersed myself in as the father of a 4-year-old boy — use the show's iconic cast as gentle tools to teach sometimes harsh lessons. In my dark studies, I have discovered that no Muppet suffers more poignantly, or extensively for the sake of your children's moral education than Lovable, Furry Grover.
On TV, Grover is a wonderful, deep, melancholy character with a real genius for pathos and sentimentality. But in the '70s books — like The Monster at the End of This Book — he's an even deeper, even sadder, even more relatable character. He's the most insecure of Muppets. It's not enough for him to get by or do okay. No, he always wants to be loved, accepted, embraced by everyone, wildly successful. And because he wants so much, book after book finds himself not just disappointed but downright heartbroken, shattered.
Grover continually refers to himself as cute, lovable, adorable and a friend because he needs to hear those comforting, validating, ego-enhancing words said aloud even if he's the one saying them. Grover's neuroses predictably inform tellingly named books like Grover's Bad, Awful Day and Grover's Bad Dream but it also permeates books whose titles do not convey just how rooted they are in Grover's haunted, precociously anxious psyche.
In Grover Learns to Read, for example Grover is so terrified that his mother will stop reading to him at night that he keeps his literacy a secret from her, while in Grover Goes to School, Grover, in his poignant yearning to be accepted and fit in, allows himself to be manipulated and controlled by his new classmates until he once again devolves into tears.
Grover is never more than a humiliation or two removed from weeping, or running home to cry to his understanding and loving mother, who always offers a shoulder to cry on. Grover's father, however, has never been seen on Sesame Street and has only been referenced in passing a handful of times in books over the course of Sesame Street's nearly half-century history.
In The Exciting Adventures of Super Grover, we learn that Grover's mother used "a funny old helmet that Grover's daddy had brought home" to build Grover his Super Grover costume. That is just about the only contribution Grover's deadbeat daddy has made to his son's life. Even the origin story for a superhero as goofy as Super Grover involves no small level of parental trauma and abandonment.
No book better illustrates the ineffable sadness of being Grover quite like 1986's Why Are You So Mean to Me, which has a level of desperation not generally seen outside of the work of Todd Solondz or Fassbinder.
The book begins, heartbreakingly enough, in a place of vulnerability, yearning, and openness. Grover wakes up smiling, excited about the school picnic. Things get even brighter when his mother gives him a surprise: a baseball bat to learn to play baseball with.
With poignantly misguided optimism, Grover enthuses guilelessly, "I will be a super batter!"
Grover never just wants to get by. He wants to be a super batter, liked by everyone, the star. And that makes his inability to even get by all the more moving.
But, inevitably, we learn, "Grover was not a super batter." He strikes out to end the game, at which point everyone, but everyone makes fun of him.
Walking home, Grover wonders aloud, "Why did all my friends make fun of me?"
"A big tear ran down (Grover's) furry face," continues this exercise in child-friendly misery.
Sinking deeper into self-pity, Grover encounters a characteristically cheerful Big Bird, who shows him a picture he painted of him. "That stinks! That does not look like me at all," Grover yells at the outsized yellow bird in a fit of rage.
Grover reduces Big Bird to tears, prompting him to yell out the book's title in sadness and miscomprehension. Then it's Grover's turn to burst into tears as he tells Big Bird about the Carrie-at-the-school-picnic trauma he'd just endured.
"Mommy, will I ever be good at batting?" Grover asks his mother hopefully. In the kind of touch that makes these books special, she tells him that he might when he gets older, however, "maybe you will not," but it will not matter because "you will always be good at being Grover."
One of the things I love about Sesame Street books is the frequency with which they make use of the waterworks. That's true of real life, but particularly true of children for whom weeping uncontrollably is a default response to not getting their way. By the end of these books, lessons have been learned, obstacles have been overcome, and frowns and tears have turned into smiles and hugs. But the deep sadness and rejection Grover experiences throughout his literary life lingers.
In his best, most melancholy books, Grover is motivated by a poignant and deeply relatable yearning to fit in, to do well, to be loved and complimented and accepted for who and what he is. But he's also driven by an equally relatable sense of fear.
In the 1971 masterpiece The Monster at the End of This Book, that fear appears to be external but is really internal. In a postmodern device worthy of Looney Tunes, Grover discerns from the book's title that there will be a monster at the end of the book. That understandably fills him with dread. "Oh, I am so afraid of monsters!" he frets.
Monsters, after all, are terrifying. They're nightmare fuel. They populate the darkest recesses of our souls. Grover is so eager to avoid encountering one of these terrors that he will do anything to keep the reader from reaching the end of the book and with it the arrival of the aforementioned monster.
Like the rest of us, Grover is prone to apocalyptic thinking, to dread, to future-tripping and trying to fight the inevitable, his destiny, his ruin. It is only at the end of the book that he comes to realize that the monster he has been fearing all along is himself: cute, furry, lovable old Grover.
Grover is terrified of external monsters but he's also scared of the monstrousness within, of his own monstrousness. It's only by accepting his true self, and his fundamental monstrousness, that Grover can move beyond his fear and self-loathing.
In the year 2000, twenty-five years after the publication of what would become the best-selling Sesame Street book of all time, a sequel was released starring the show's new breakout star in the form of Another Monster at the End of This Book: Starring Lovable, Furry Old Grover, and Equally Lovable, Furry Little Elmo. And that book was a betrayal.
Where the prospect of a monster at the end the book fills Grover with dread and a desperate need to avoid the inevitable, the inveterately optimistic, cheerful Elmo welcomes the prospect of the monster at the end of the book, cognizant that monsters, whether of the literal or metaphorical variety, are never as scary as our fears and our imaginations make them out to be.
Elmo might be who we want to be — cheerful, optimistic, sunny, looking forward to each day with guileless enthusiasm. But Grover — scared, hopeful, achingly vulnerable, and wanting more than anything to be loved and accepted — is who we ultimately really are. Which is why we relate to Grover, the most human, most lovable, and the saddest of all the Sesame Street monsters.
This article was originally published on