5 Reasons Why 'The Great Muppet Caper' Still Holds-Up, 40 Years Later
Let's dig into why this Muppet flick is still solid AF.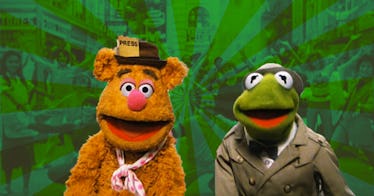 Universal Pictures
A lot of great shows and movies have turned 40 this year, and from For Your Eyes Only to Raiders of the Lost Ark, the nostalgia for various pop culture moments is only getting stronger as time goes by. But, in June of 1981, there was another massive hit you can't believe is four decades old: The Great Muppet Caper.
Starring twin brothers and struggling news reporters — that'd be Kermit the Frog and Fozzie the Bear — the pair ventures off to London hoping to break the story of who stole celebrity fashion designer Lady Holiday's (Diana Rigg) pricey jewels. Along the way, Kermit and Fozzie, accompanied by Gonzo (as their photographer), meet Miss Piggy (posing as Lady Holiday), Pops, Scooter, Rowlf, the Electric Mayhem, and Lady Holiday's snooty, conniving brother, Nicky (Charles Grodin).
The Great Muppet Caper holds up remarkably well. It's a hoot and you should watch it ASAP. Here are the five best reasons why.5. Jim Henson's first movie
Muppet master Henson made his feature directing debut with The Great Muppet Caper. Talk to some longtime Muppet aficionados and they'll argue that Caper is as good as, if not even better than The Muppet Movie (which was directed by James Frawley). We rate it a notch below The Muppet Movie, which was pretty perfect. Henson had all the right instincts, seamlessly blending the Muppets, human characters, a whodunnit plot, musical numbers, comedy, and a bit of romance into a frothy family film that appeals to kids and adults alike, and yet is so squeaky clean and earnest that it received a G rating from the MPAA.
4. The Old-School Cameos
Just as The Muppet Movie attracted big names for small cameos, so did The Great Muppet Caper. Among the talent putting in charming appearances: John Cleese, Robert Morley, Peter Ustinov, Jack Warden, Peter Falk, and Oscar the Grouch (Caroll Spinney). Best of all, though, Frank Oz and Jim Henson turn up in separate scenes, with Oz playing an employee at Kermit and Fozzie's newspaper and Henson as a patron at the Dubonnet Club.
3. The Bike Scene
Kermit riding a bike (gone with the Schwinn!) in The Muppet Movie still makes audiences ooh and aah. The scene was pure Muppets wizardry. Henson wanted to top that, and he tasked his teenage son Brian with finding a way to get pretty much every Muppet (even the Swedish Chef!) pedaling away on screen. The resulting scene, realized with marionettes and invisible wires, is accompanied by a sweet song, "Couldn't We Ride," by Joe Raposo (who earned an Oscar nomination for a different song, "The First Time It Happens"). Piggy gets a nice moment with her beloved Kermit (though their big kiss occurs elsewhere in the movie), and the curmudgeonly Statler and Waldorf elicit a chuckle with the following line as Kermit shows off on his bike: "Look, ma. No brains!"
2. Charles Grodin Is Perfectly Weird
No one oozed snide malevolence and barely contained pent-up frustration like the late, great Charles Grodin. Here, he mostly plays off the Muppets (though he shares a few nice moments with the future Dame Diana Rigg) and he does so effortlessly. Really, he's wooing Miss Piggy, and you can't help but buy it… and laugh. At one point, Nicky tells the porcine apple of his eye, "You're a very different looking woman. I'm so tired of the same type… those tall, thin creatures with the long legs, the aquiline noses, the teeth like pearls… soft skin." He was clearly having fun, hamming it up (pardon the pun) just enough, and that sense of fun carries over to the moviegoer.
1. The Water Ballet Scene Is Amazing
One of the film's highlights is "Piggy's Fantasy," a four-minute scene inspired by Esther Williams and her famous movie water ballets. Here, Piggy – clad in a glorious silver bathing suit — swims and dances with a bevy of human beauties in an entertaining, ambitious musical number. Piggy's feet rising above the water? Check. Air bubbles emanating from her nose? Yup. Can you imagine filming this scene? Underwater. With puppets and actors and cameras and… It could not have been easy, but the results were – and remain – remarkable. And there's even more to the scene, with Kermit and Nicky (a purposefully, VERY dubbed Grodin) singing for Piggy's attention/affection, leading to the movie's best in-jokes.
The Great Muppet Caper is available to stream on Disney+.
This article was originally published on