Watch the Best '80s Adventure Movie Before It Leaves HBO Max This Week
Indiana Jones and Marty McFly have nothing on these kids.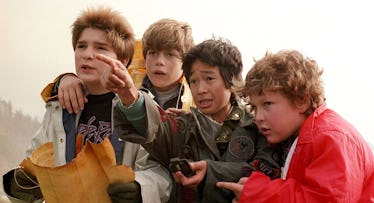 Warner Bros. / Amblin Entertainment
There are movies that are meant to be passed down from generation to generation, from Dad and Mom to their kids or even Grandpa and Grandma to their grandkids. Right up there with The Princess Bride, Mary Poppins, Elf, 16 Candles, Stand by Me, E.T., The Sisterhood of the Traveling Pants, and any number of animated classics is The Goonies. Truth be told, The Goonies is the wild card in the bunch. It's loud and a hodgepodge of genres, and so, so, so very 1980s, not to mention a bit hammy. But, even if it's not quite the sum of its many great parts, it's a super-entertaining couple of hours for the family to share.
The Goonies is currently streaming on HBO Max, but it's leaving on February 28, here are five reasons it's still a total classic.
The StoryGreedy developers are planning to develop the Goon Docks section of Astoria, Oregon, into a country club and so they're buying up houses in the area and/or forcing foreclosures. A group of kids from the area, "rejects" who call themselves The Goonies, decide to embark on one last adventure. The Goonies is comprised of Mikey (Sean Astin), Chunk (Jeff Cohen), Mouth (Corey Feldman), and Data (Jonathan Ke Huy Quan). When they come upon a centuries-old map in an attic, the Goonies go chasing One-Eyed Willy's pirate ship and the untold treasures aboard it that might stave off the developers. Only, they're not the only ones seeking a better life. Enter the Fratellis (Anne Ramsey, Robert Davi, Joe Pantoliano), bungling baddies with a mean momma (Ramsey) and a deformed, but sweet brother, whom they treat horribly. That'd be Sloth (John Matuszak). And there are the cooler kids, among them Mikey's brother, Brand (Josh Brolin); Andy (Kerri Green), a cheerleader who's attracted to Brand; and Stef (Martha Plimpton), Andy's best friend. Off they all go, with the kids bickering, forging bonds, maturing, experiencing romantic feelings, learning about themselves and each other, overcoming fears, etc. Pure Movie MagicThe Goonies is the ultimate kitchen sink of a movie. Really, it's got everything: car chases, a pirate ship, jail breakout, laughs and scares, plucky teens, a likable monster, catchphrases ("Goonies never say die!"), moments of romance, creepy skeletons, catchy songs, shimmering gold doubloons, a great score, and sights to behold. Where to even begin? The Fratellis are terrific villains. Led by the late, great and gruff Anne Ramsey, they're funny and threatening. The Walshes' house is a lived-in hoot, filled with books, and a stuffed attic, and a variety of Home Alone-level booby traps. The pirate ship is a full-size set built for the movie, and it adds invaluable realism to the extended finale. And Data delivers in the clutch with a variety of inventive devices that would make both MacGyver and Q from James Bond proud. The CastDonner recruited a ridiculous group of actors for The Goonies, several of whom were already burgeoning stars, others that Donner helped put on the path to stardom. Astin plays the leader of the Goonies, and capably carries the movie… his first-ever! The Goonies also marked the debuts of Brolin and Green; he's now a massive star and she went on to break hearts in Lucas. Quan had already played Short Round in Indiana Jones and The Temple of Doom. Cohen moved on from his career as a child actor and is now a lawyer and author. Davi and Joey Pants are two of Hollywood's most dependable character actors. Plimpton is an all-around talent, still jumping seamlessly from comedy (the long-running Raising Hope) to drama (the recent, searing Mass). Veteran actress Ramsey later co-starred in Throw Momma from the Train, earning a Best Supporting Actress Oscar nomination, and Scrooged, and sadly passed away in 1988. Matuszak was a pro football star who found real success in acting, including a winsome turn in Ringo Starr's movie, Caveman, before passing away at age 38 in 1989. The Spielberg FactorBack in 1985, when The Goonies opened, Steven Spielberg was the premier impresario of mainstream movie entertainment, mostly as a director (Jaws, Close Encounters, Raiders, E.T.). But he was just starting to lend his name – and his brand, as it were – to friends and colleagues as a producer, handing story ideas over to them to develop or helping them realize dream projects. He'd produced Poltergeist for director Tobe Hooper, for example, but apparently directed more of it than anyone realized at the time. He devised the story for The Goonies, which Chris Columbus adapted into a script, and Richard Donner directed after scoring big hits with The Omen and Superman. Apparently, Goonies was so close to Spielberg's heart that he was on set a lot and, at least according to Sean Astin, practically co-directed the film with Donner. Either way, the film is masterfully made mayhem which benefits from the combined imprints of Spielberg, Donner and Columbus.The MusicSoundtracks don't get much more 80s than the synth-heavy one produced for The Goonies. It starts with Cindy Lauper's "The Goonies 'R' Good Enough," which can not only be heard in the movie, but seen, as the kids watch her music video for the song. Lauper helped curate the other soundtrack choices, and championed a young female band, The Bangles, who'd soon explode in popularity. Their contribution is "I Got Nothing." Other major artists included here are Luther Vandross, REO Speedwagon, Toto lead vocalist Joseph Williams, Teena Marie, Philip Bailey from Earth, Wind & Fire, and Dave Grusin (the film's composer, whose "Theme from The Goonies" concludes the record). One other group worth mentioning is The Goon Squad. Their song, "Eight Arms to Hold You," was meant to accompany a scene – involving an octopus attack during the pirate ship sequence – that was cut from the movie, but can be found among the DVD extras and on YouTube. Though only a snippet of the song made it into the movie, the tune itself hit number one on the Billboard Hot Dance Club Play chart. And the video for the song is an 80s partly-animated epic featuring… a big ol' octopus. Oh, and back to Lauper's video for "The Goonies 'R' Good Enough." It's a 12-minute extravaganza starring Lauper, Captain Lou Albano, Lauper's mom, Catrine, most of the Goonies cast, Spielberg, Rowdy Roddy Piper, Classy Freddie Blassie, The Fabulous Moolah, Nikolai Volkoff, and Andre the Giant, plus The Bangles. Donner directed the video, shooting huge chunks of it on the Goonies set while the movie was in production. Also in the video? Some footage of the octopus from the infamous deleted scene.The Goonies is streaming on HBO Max until February 28.