The 'Goodbye Christopher Robin' Trailer is an Expotition to Pooh Country
A.A. Milne was a sad man. Then he moved to the woods and started writing a book for his boy.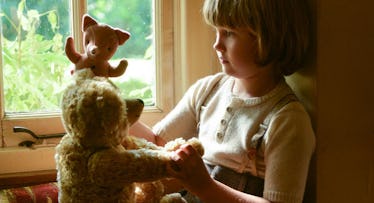 Before Winnie the Pooh became one of the most popular children's book characters of all time, he was a stuffed animal named Edward in the arms of Christopher Robin Milne, the son of the successful playwright and WWI veteran Alan Alexander Milne. The bear's transformation from plaything to icon was the result of one of the biggest publishing sensations of the 20th century and the older Milne's struggle to regain a sense of self after witnessing grotesque violence on the Western Front. Goodbye Christopher Robin, a film by Simon Curtis, seeks to dramatize Milne's experience and his relationship with his son, which blossomed in the Hundred Acre Woods (Ashdown Forest, actually) before taking a turn for the complicated. And the trailer looks spectacular.
The film catches up with Milne as he fails to enjoy success in London and makes a fateful decision to move his wife, played by Margot Robbie, and his son, played at several different ages by a series of newcomers, to the country. Pooh sticks gets played. Christopher Robin goes on walks. Inspiration strikes. But the story doesn't end there. It documents what happened next.
The first book, Winnie-the-Pooh was immediately popular upon its release, spawning three sequels and making Milne one of the most beloved children's book authors of all time. Even decades later, Milne's characters still endure. Just last year, Winnie beat out Harry Potter and was voted the UK's most popular book character of all time.
Of course, real life is often more complicated than Hollywood makes it out to be and this movie appears to overlook some of the more controversial aspects of Milne's relationship with his son. The trailer briefly hints at the strain the success of the books takes on Christopher's connection with his dad, but in reality, it basically destroyed their relationship. As Christopher grew older, he began to resent his dad for exploiting his childhood for monetary gain and eventually came to hate the books he inspired. It's unclear whether or not the title of the film refers to this sad denouement–the age of some of the actors credited with playing Christopher Robin seems to indicate it likely is–but it is clear that the film will be beautiful to look at and probably heartbreaking.