Ivan Reitman Told Me the Secret To Why Kids Love 'Ghostbusters'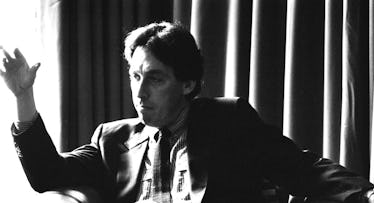 Credit: Hilaria McCarthy/Hulton Archive/Getty Images
At the age of 75, legendary film director Ivan Reitman has died. Although he directed the comedy classics Stripes, Meatballs, and Twins, he'll forever be remembered for Ghostbusters (1984) and Ghostbusters II (1989).
For those who came of age in the '80s and '90s, the original Ghostbusters isn't just a classic comedy, for some, it's close to being an offbeat bible. But, what is so interesting about Ghostbusters is that the original Reitman film is pretty much not a movie for kids. The movie is full of tons of adult humor, sexy jokes, and lots of swearing. And yet, as children, many of us loved it! But why?
Back in 2016, I briefly spoke to Ivan Reitman at Madame Tussauds before the launch of the Ghostbusters: Answer the Call. As you can guess, he was brilliantly funny, down-to-earth, and kind. And, when I asked him why a movie very-much not for kids appealed to kids, he gave a great answer.
"Children are generally afraid of ghosts. What we learned pretty early on in the film is that it taught you not to be afraid of those unknown things. No one really dies in the movie, and even though it's scary because of the comedy and because of the particular nature of the Ghostbusters themselves."
designedaren'tGhostbustersbustnobodyHere's our guide to streaming all the Ghostbusters movies online. Check out all the wonderful Ivan Reitman tributes around the web. Here's a quick sampling of just a few.