We Got One! New 'Ghostbusters' Trailer Brings Back a Familiar Face
Let's unpack that Buster family tree.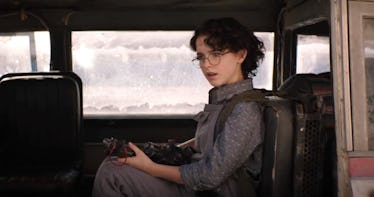 Credit: Sony
Nobody ever made them like this! The unlikely sequel to Ghostbusters II — the upcoming film Ghostbusters: Afterlife — is coming whether you're ready or not! Whoa-oh! Somebody's coming!
A new trailer for Ghostbusters: Afterlife has just dropped, and among other things, features the return of Annie Potts as Janine Melnitz, the former secretary for the busters in the original films. In the new film, it looks like Janine and Egon eventually got married and started a family, since the film is focused on Egon's granddaughter Phoebe (Mckenna Grace) picking up where her grandfather left off. This also means that Janine is (probably) Phoebe's grandmother.
The trailer also features the hand of Ray Stanz (Dan Aykroyd), answering a red phone and saying "we're closed." Where is Ray? Well, if you recall, in Ghostbusters II, Ray owned a bookshop called Ray's Occult Books, and their hours were until 7 pm on weeknights, but midnight on Saturdays. Did you memorize all the dialogue of both Ghostbusters as a kid? If so, it's possible that Ghostbusters: Afterlife is for you. Here's the new trailer.
In addition to Potts as Janine, and Aykroyd as Ray, Afterlife is expected to bring back Bill Murray as Venkman, Ernie Hudson as Winston, and Sigourney Weaver as Dana, too! Hopefully, this Busters delivers on nostalgia while also creating something new at the same time. Fingers crossed — they've got the tools, they've got the talent!
Ghostbusters: Afterlife hits theaters on November 11, 2021.
This article was originally published on