New 'Ghostbusters' Clip Reveals the Return of a Classic Demon
Whoa-oh...somebody's coming!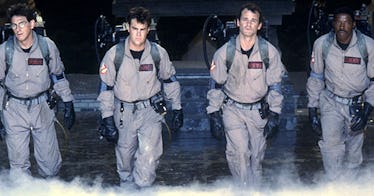 Credit: Sony/Columbia Pictures
Choose the form of the destructor! When Ghostbusters: Afterlife hits theaters on November 10, 2021, one very familiar "ghost" will make a comeback in a big way. Well, actually in a small way. In the first clip from the new movie, Paul Rudd's Mr. Grooberson is hassled by teeny-tiny Stay Puft Marshmallow Men in the grocery store. Is Zuul back? Oh, Zuul-y you nut!!!
Unlike the 2016 Ghostbusters, the new 2021 movie (directed by Jason Reitman) is a directed sequel to the two classic Busters films. In theory, this movie takes place in the present day, but in a time when the events of the '80s movies are a distant memory. Back when we thought this movie was going to come out in 2020, a trailer showed a new squad of teens picking up the Ghostbuster gear, including the classic Ecto-1. (Which really, should have looked like Ecto-1A from Ghostbusters 2, but whatever.)
accidentallyAfterlifeAfterlifeSteppenwolf-styleAfterlifedifferentGhostbusters: Afterlife is out on November 10, 2021.
This article was originally published on