'Ghostbusters: Afterlife' Director Explains Why That Shocking Cameo Had to Happen
These movies are about ghosts, remember?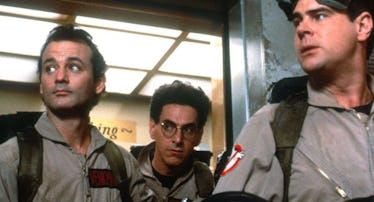 Credit: Sony/Columbia
He's back!
In Ghostbusters: Afterlife, Bill Murray, Dan Aykroyd, Ernie Hudson, and Annie Potts aren't the only Ghostbusters alumni who return. By now, the secret is out, another famous Ghostbuster also returns. Here's what happened, and what director Jason Reitman told Fatherly about why the moment needed to be in the movie.
Spoilers ahead!
So, Harold Ramis does haunt Ghostbusters: Afterlife, quite literally. In an emotional, tear-jerking sequence, Egon Spengler (Ramis) returns as a spirit to help his daughter (Carrie Coon) and grandchildren (Finn Wolfhard and Mckenna Grace), as well as Venkman (Murray), Stantz (Aykroyd), and Zeddemore (Hudson) save the day. But, Ramis passed away in 2014, meaning Afterlife director Jason Reitman had to employ some major visual effects magic to resurrect the beloved actor and famous director.
"I made this movie for my father," Reitman tells Fatherly, referring to Ghostbusters and Ghostbusters II director Ivan Reitman. "I made it for my daughter. And I made this movie for Harold [Ramis]. My father was the first person to read the script of Ghostbusters: Afterlife, and then I gave it to Erica Ramis (Harold's widow). I gave it to her kids. I gave it to Violet Ramis (Harold's daughter) who I grew up with on the set of Ghostbusters. I wasn't going to make it unless they were on board."
How Did Ghostbusters: Afterlife bring back Egon?
"I really appreciate the question, but I'm not going to talk about that just because it's too deep a secret and we've held onto it for so long," Reitman replies politely. "I don't know when I will feel comfortable talking about how we accomplished that."
The explanation could wind up among the extras on the eventual Blu-ray, or it may not. Either way, the sight of Spengler joining his old friends to battle evil and then bidding goodbye to his family, won't leave a dry eye in the house. "Afterlife is kind of sneaky in that it really is one of my movies inside of a Ghostbusters film," Reitman says. "It's a movie about a single mom and her two kids arriving at this old haunted house in the middle of the country, and learning about their past and reconciling. And while it is a Ghostbusters movie through and through, it is also a movie about a family that has to learn to communicate, talk to each other and re-embrace each other. That's how this movie ends, and I'm really proud of that."Ghostbusters: Afterlife, which is dedicated to Harold Ramis, is in theaters now.