George Clooney Craves Batman Toy Nipples In Hilarious New Charity Video
In a new video push for the charity Omaze, Clooney gets obsessed with Brad Pitt and buying old Batman toys.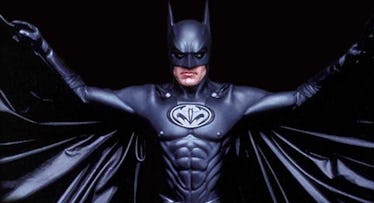 Credit: Warner Bros.
Everyone's favorite Batman movie is George Clooney's 1997 Bat-bomb; Batman and Robin. You think I'm joking? Because everyone has gotten so much glee from ripping this movie over and over again for the past two decades, it's very clear that the Bat-flick that brings people the most joy is the worst one. From Arnold Schwarzenegger's iconic lines like "everybody chill," to the absurdity of Clooney's bat suit, to the WTF-ness of the bargain basement version of Bane, Batman and Robin is the best worst movie of all time.
Clooney has been in on this joke for a long time, but he takes it to a whole new level in a new charity push for Omaze. In the video, Clooney pretends to have been stuck at a guy named Byron's house for most of the 2020 pandemic. The reason he was there? To buy a used $7 dollar Batman action figure via Craigslist. Clooney is meh about the purchase saying "it's not the one with the nipples." Although the infamous Bat-nipples appeared on Val Kilmer's Batman first, people tend to give Batman Forever a pass, while Batman and Robin is just a punchline that never ends.
The video is pretty damn hilarious and gets even funnier when Clooney reveals his bizarre obsession with the way Brad Pitt eats. Watch it below.
You can learn more about George Clooney's charity push here at Omaze.
You can also watch Batman and Robin in all of its bat-nipple bat-codpiece glory on HBO Max right here.