HBO Tweeted 'Winter Is Coming' in Spring. It Didn't Go Well
"Winter has GONE. YOU BLEW IT."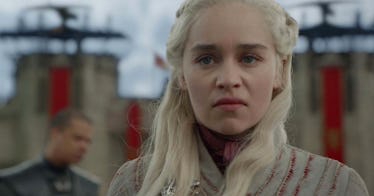 HBO
Game of Thrones' final episode aired almost two years ago but many fans have not gotten over their disappointment at the ending and they channeled that anger in response to a cryptic tweet from the official Game of Thrones account.
"Winter is coming," the account tweeted yesterday.
First of all, Game of Thrones Twitter account, winter is absolutely not coming. In fact, we literally just left winter behind. But the show's ignorance about the seasonal calendar did not end up riling up fans as much as their lingering fury towards the infamous finale.
In the past, a tease like this would spark speculation from fans online, especially from a fanbase as passionate as the millions of viewers who obsessively consumed all eight seasons of Game of Thrones. Could we be getting a first glimpse of the prequel series House of the Dragon soon? Are they teasing a ninth season? Or could they be listening to fans who have suggested remaking the entire final season to give the show a proper ending?
In the past, fans would have been trying to parse every possible interpretation of this three-word tweet. But instead, they simply took the opportunity to express their continued anger over the show's ending, which was so universally despised that it irreparably tainted the legacy of the show in the eyes of a large chunk of the fandom.
"Winter has GONE. YOU BLEW IT," one reply read, which received over 500 likes from fans who shared the sentiment.
"Never before have I seen a series nose dive so hard and be abandoned by its fans and viewers," replied another angry fan who received 8,000 likes. "I'm currently re-watching the show and it physically hurts to know how unrewarding the finale is. If y'all can revive this franchise, it would be a miracle."
The message from fans is abundantly obvious: the final season was such garbage that it managed to ruin the entire series. Whether it was Jaime's entire character arc being undone or the choice to let Bran suddenly rule the Seven Kingdoms thanks to a speech from Tyrion, fans have not gotten over the fact that they feel let down by a show they had spent years loving so much.
But the Game of Thrones account failed to read the room and seemed to assume that a cheeky reference to the show would stir up some nostalgia from fans, rather than thousands of responses letting them know that they still aren't over the bullshit ending.