'Gabby's Dollhouse' Star Says She's Ready To Grow-Up Alongside Your Kids
The biggest new Netflix show for kids is charmingly weird — and smarter than it might seem.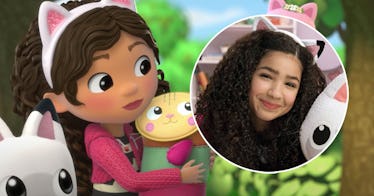 Netflix
Perhaps the strangest thing about Gabby's Dollhouse is the fact that there are no traditional dolls on the show. The title refers to a toy dollhouse, yes, but inside are toy cats and the only person who shrinks herself down to doll size is Gabby, played by the young performer, Laila Lockhart. In the show, Lockhart's Gabby is exuberant and chatty. In real life, she's a thoughtful kid, who gives the show's producers notes when she notices the word choice in the scripts isn't quite right.
"I'm not like an editor or anything, but sometimes I'll catch something in the script and be like, 'hey we've been saying pink and orange a lot lately.' And sometimes they'll change it."
For parents who are sometimes a bit worn-out by the massive amounts of hyper-energy coming off the screen from various new kids' shows, including Dreamwork's Gabby's Dollhouse, take solace in the fact that the people working on this show are working hard to make sure nothing about the series is dumbed-down. Lockhart points out that the "attention to detail" on Gabby's Dollhouse is part of why she thinks so many kids are into it. Sadly, because of the pandemic, Lockhart says her interaction with her fans, the countless children who are pumped up about the show, is limited. "I've been in disbelief for a while, but like when, like sometimes it hits me and like I have a hit show on Netflix."
Although an animated Gabby (voiced by Lockhart) occupies the majority of each episode's storylines, real-life Gabby always frames each episode. Before she "gets tiny" and enters the dollhouse, Gabby serves as a kind of slightly bigger-kid Mr. Rogers figure, guiding kids into this particular land of make-believe. If you have a preschooler who is into the series, you're already aware of the magic and mesmerizing impact Gabby has on kids as the narrator of the show. But, what happens when Lockhart gets older? Can Gabby grow up?
"I don't know," Lockhart says. "Like, we're still trying to figure that out. Maybe there'll be new stuff brought to the show. Maybe it just follows along Gabby's journey as she gets older and her character changes a bit. It's not exactly my decision to choose. But, whatever it is, I hope it still keeps on going because I mean, I love Gabby."
Hopefully, Lockhart is right, and contemporary little ones can see their newest hero grow up with them. Who knows, maybe in 10 years, Lockhart could be hosting a show aimed at teenagers? For now, though, parents can take comfort in at least a few more new seasons of Gabby's Dollhouse, just the way it is.
Gabby's Dollhouse Season 2 — from Dreamworks — just hit Netflix. It's streaming here.
This article was originally published on