The 5 Funniest Parenting Advice Books for New Dads and Moms
If you ever wondered what it would be like to deliberately traumatize your kid, raise them in a zombie apocalypse or get them to go the eff to sleep, these are the books for you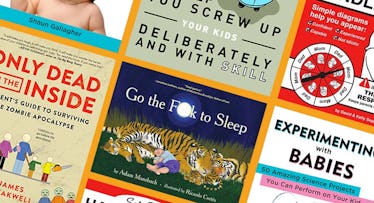 The world is chock full of earnest parenting books offering earnest parenting advice earnest sentence after earnest sentence. And that's a great for people, specifically new parents, who sometimes feel unmoored. More information is good, but at times the sheer quantity of advice out there can feel overwhelming and the tone of the tomes can feel at odds with the experience of being a parent, which is absolutely terrifying. This is why there are so many funny parenting books (or parenting books intended as jokes anyway) and why they matter. They bring a bit of levity to a stressful situation. That said, many of them suck. The five below do not. Buy those instead.
Only Dead on the Inside: A Parent's Guide to Surviving the Zombie Apocalypse
James Breakwell is a funny dad. Really funny. So funny he probably makes a pretty mediocre living off of his jokes. His twitter account @XplodingUnicorn is pretty much nonstop riffing about his three daughters and the hilarious things they say, along with some terribly illustrated, but funny, comics. His parenting book is much of the same, except with zombies.
Only Dead on the Inside is a prolonged thought experiment on what it would be like to raise children in the zombie apocalypse but written as a standard parenting book. And it isn't without its educational merit. Sure you may not have to follow the advice of the chapter dedicated to chopping off your own arm (hopefully), but that's not really the point. When you think of parenting in a world where yours is the only authority holding the civilization of your family together, everything else in the non-zombie world has a tendency to look pretty darn easy.
Experimenting with Babies: 50 Amazing Science Projects You Can Perform on Your Kid
The title of Shaun Gallagher's science-oriented parenting book is far more shocking than the content itself. His experiments are less along the lines of Jekyll and Hyde and more along the lines of David Letterman stupid human trick if those humans were still babies.
Admittedly, calling the 50 experiments you can perform on your baby "tricks" is a bit dismissive. Each experiment, in fact, includes a hypothesis, an explanation of the research behind the result and a practical takeaway. These range from the honestly useful (the scent of breastmilk on a cloth can help soothe a baby) to dubiously useful (turning your baby's head to the left or right causes a reflex that makes them look like a fencer).
Happily to the book grows along with your kid, with experiments parents can try all along their babies first year of development and beyond. Who knew your partner gave birth to a prolonged science experiment?
How to Traumatize Your Children: 7 Proven Methods to Help You Screw Up Your Kids Deliberately and with Skill
The cruelest parenting book on the market might actually be the most useful. How to Traumatize Your Children is a deep dive into very real ways in which children are traumatized, but written in the cheery "how to" verbiage of your wife's favorite pastel colored mommy blog.
The premise is truly funny, but the information is also truly useful. It's a Lewis Carroll universe of parenting advice, but if you recognize yourself in the looking glass it may be time to make a change. Consider the passage entitled "Push Them Now Before It's Too Late" which explains that ultimately children should be pushed to be successful so they can be a good reflection on all the sacrifices you've made. If that sounds like a familiar thought, you may be traumatizing your child. Maybe it's time for those ernest parenting advice books after all.
Go the F**k to Sleep
A classic of the sarcastic parenting genre, Go the F**k to Sleep still reigns in the realm of catharsis. The faux bedtime story turns the typical, saccharine, animal-laden nighty-night narrative upside down with the magic of salty language.
Follow a reluctant child on a wearying path to dreamland as they ask for water, get out of bed, lounge around with tigers and do anything but go the eff to sleep. Thrill at the sweet poetry straight out of On the Night You Were Born punctuated with the words you have probably screamed in your head (and maybe aloud) dozens of times. Then, feel better knowing that you are not alone.
Safe Baby Handling Tips
Another classic of the genre, Safe Baby Handling Tips has a lot going for it. First, it's crazy durable because it's board book. That comes in super handy considering you're a parent. Second, it's mostly pictures, which also comes in handy because who has time to read. Finally the illustrations demonstrating what to do and what not to do are fantastically informative and funny.
As a bonus, some books include a spinnable wheel of responsibility that allows parents to leave doody duty to chance with a spin of the wheel. Honestly, you can get much more helpful than that.
This article was originally published on