Free COVID-19 eBook Is Made to Empower Kids
"A Kids Book About" has tackled the current crisis to help families talk to their children.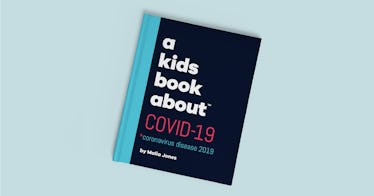 As families hunker down, shelter in place, and try not to lose their collective minds, a new — and totally free — children's book is here to help. The specialty publisher A Kids Book About has just released a new title, A Kids Book About COVID-19 written by social epidemiologist Malia Jones. Here's why the book is designed to empower grade-school aged children and how the publisher plans to keep it relevant and up-to-date.
"Our content is 100 percent geared toward kids and creating that collective read-together moment," publisher Jelani Memory told Fatherly in a phone interview. "This is different than reading a Washington Post article. As an adult, I have a hard time keeping all of this in my head. When my kids have asked me a question [about coronavirus], I've been stumped. Which is part of why we created this book."
Memory is well aware that publishing a book about a pandemic could be problematic. After all, there's still much that experts don't know about COVID-19. But, for children, he thinks certain lessons will never change, regardless of what new facts come to light about COVID-19. To put it another way, teaching kids about the importance of washing their hands is never going to go out of style.
"The basic facts about how viruses work, are not going to change. Wash your hands. Don't pick your nose. That stuff is going to stay the same. But, as new information comes out, we are going to create new editions of the ebook, and make it easy for families to download those new versions. For children, we didn't think it was relevant to tackle how many cases there are and how many people have died. We spent less time there."
Overall, the goal of A Kids Book About COVID-19 is to "facilitate a moment" where parents are looking for ways to talk to their kids about current events, without being overwhelmed. "Our goal is to empower kids and families with information."
The publisher, A Kids Book About, will never make this new ebook something parents have to buy. Memory tells Fatherly, the book will always remain free.
A Kids Book ABOUT COVID-19 is available for download right here. The age range is recommended for children 6-years-old and above. So, if you've got a grade-schooler who is suddenly home, this book has come at just the right moment.
This article was originally published on