Former MLB Star Kevin Millar Has Some Damn Fine Advice For Sports Dads
The former Red Sox star and current host of 'Intentional Talk' knows a good sports dad when he sees one.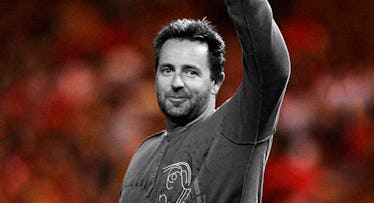 For Kevin Millar, baseball has always been more than a game; it's been a way of life. The former MLB player spent 12 years in the big leagues, playing first base for the Florida Marlins, Boston Red Sox, Baltimore Orioles, and Toronto Blue Jays. In 2004, he was a key member of the Red Sox team that broke the franchise's 86-year championship drought. After retiring in 2009, Millar went into broadcasting and, starting in 2011, has been the co-host of Intentional Talk, a year-round talk show on the MLB Network where he and his co-host Chris Rose give their expertise and insight into America's pastime.
Millar has another job title, too: dad. The 46-year-old is currently raising four kids with his wife Jeana in Austin, Texas. Fatherly spoke with Millar about getting his kids into baseball, what he is teaching his sons, and why obnoxious parents continue to ruin Little League games.
Opening day is only a few weeks away. Do you get as excited about a new season now as you did when you were a player?
I definitely still get excited every year. Spring training rolls around, and our show jumps to an hour. You can just feel that baseball is coming. I love doing the show year-round, but there's nothing quite like the build-up to the season. It's a blast to look at rosters coming together and try to figure out which team is going to break out, or what young player is going to become a star.
Who are a few of the teams you're excited about?
One team that I think is under the radar is the Chicago White Sox. They have a massive amount of young talent. And the trades that their GM Rick Hahn has made over the last few years have been impressive.
You have four kids. Are they baseball fans?
They love all kinds of sports. They remind me of myself when I was their age. They just want to get out there and play. It's a blast. I was telling my wife this morning that we might need to take our kids out of sports because they are turning us into a taxi service. Truly, other than work, I feel like all I do is drive my kids to practice or games. Basketball. Football. Soccer. It never ends. Maybe we should be convincing them sports aren't actually that cool? Focus on your studies more.
Do any of them root for specific MLB teams?
My two sons do. My 12-year-old son is a die-hard Red Sox and I don't know why. He was born in April of 2005 so he wasn't even alive for when I won the World Series with Boston. He loves the Sox and Patriots. He also likes the Celtics and I grew up a Lakers fan, so we have that rivalry, which is both fun and frustrating. My 11-year-old is a bit more a drifter. He'll follow players instead of teams. Not afraid to root for a team for a season then forget about them the next season.
What would your advice be for dads hoping to get their kids into baseball?
Don't ruin the fun for your kids. So many parents and coaches take the joy of the game out of it for their kids because they get way too focused on winning. I've seen so many little league dads who treat it like they're managing the World Series. Don't yell at your kid or freak out if they strike out. No kid likes to get yelled at. Let them enjoy the game because that's what matters.
What has been your biggest parenting challenge?
It's hard to always know what is right and what's wrong. You can only make choices that you hope are right for your kids. There's no perfect guidebook or pill that makes everything great. You can only do what you feel is right for your kids and your family. Different families have different issues, and there's no one-size-fits-all for raising kids. And that's always going to be a little bit frustrating.
How has becoming a dad changed you as a person?
Becoming a dad forced me to mature. You suddenly feel this love that you didn't even realize you were capable of. For me, I realized that I needed to grow up and be responsible for my kids. It's a game changer, it really is.
Focusing specifically on your sons, what are the lessons you are trying to teach them as they grow up?
The underlying message is always respect. It's not easy and I'm not perfect but I am trying to teach my sons the importance of respect. Respect yourself and respect others. Treat other people the way that you want to be treated. It's simple, but it's something I want to make sure my boys understand. When my sons see kids getting bullied or laughed at, I want their first instinct to be to help and protect whoever is being bullied. It's much easier to do the opposite and sit silently as someone is being treated terribly, but it's wrong.