The Coolest Children's Musician on Earth Is Also a Member of 'The Suicide Squad'
Flula Borg sings kids' songs, sings 'Trolls' songs, and is clearly nuts. We like it.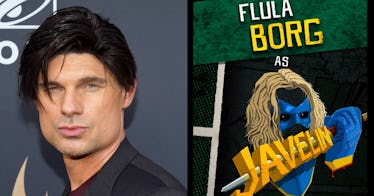 GETTY
The best children's band is easily Go Banana Go! and one of the guys collaborating with them goes by the unlikely name of DJ Flula. We're pretty sure that if there's such a thing as a bananas-good children's music genius, it's Flula Borg. And if you're a slightly behind-the-times parent like me, it may surprise you to learn that you've seen this actor-musician as much as you've heard him. In addition to his talents as a kooky and legitimately hip children's musician, Borg has had guest spots on Curb Your Enthusiasm, Conan, Last Call With Carson Daly, and more. Most recently, he voiced the Troll Dickory in 2020's Trolls World Tour. Later this year, Flula Borg will play the superhero Javelin in the new version of The Suicide Squad, which looks amazing.
But as of now, Borg is the coolest kids' musician we've encountered in quite some time. Fatherly is proud to present the debut music video for his new song "Who Tooted?" (Scroll down!) In the meantime, here's what Flula told us about how he makes the music of Go Banana Go, and why dads should listen to the Prodigy more often.
"Go Banana Go" is "Who Tooted? Is cool. How do you make kids' music cool?
I think if you let fruits–especially ones use by tennis players to eliminate the mid-match cramps–make music, then the result shall be the sassiest of tunes in the history of ears! If two bagels made some music it would probably be fine (decent beats, weak lyrics), but also would hold zero candles to the magic of the musiks made by fruits that undergo negative geotropism!
Why do kids love these Trolls so damn much? What's the secret?
As a child, I was always saying to my Vater ("father" in German, not the bad man from Star Fights) that: "Vater I hope one day perhaps to live in a THOW (tiny house on wheels) near a bridge and have to work no hours, accept when confused people tried to cross the bridge I could tell them riddles and make some Euros…make this true come dream, Vater!" I think other children have this dream as well, so this is why Trolls is so popular.
What can you tell me about The Suicide Squad? I can't wait!
Me as well! I can confirm that The Suicide Squad contains exactly 5 syllables.
How can dads be 2% cooler in terms of their music tastes?
Listen to Prodigy "The Fat of the Land" 8 times on a large boombox while driving a golf cart BELOW the speed limit! (always follow the traffic laws).
Beyond your own music, what are you listening to these days?
I enjoy the sound you hear when you are opening a glass bottle that has a popping top? Do you know what I am meaning? Like a Snapple Peach Ice Tea bottle, you twist it and you hear a delicious clicking? I enjoy listening to this.
Fatherly is pleased to present "Who Tooted?" From the new EP, It's For You. Check it out on Spotify here.
This article was originally published on