10 Original Ideas for Outdoor First Birthday Parties
The first party is not really meant for birthday boy or girl. Here's how throw an outdoor party that caters to adults while providing a good time for baby.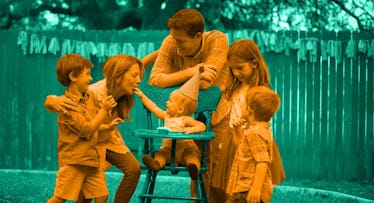 The great thing about first birthday parties is, while they're technically about the kid, they're more for you and everyone else who cares about the kid. Hey, you just survived your baby's first year, so, yes, you deserve a party. So do Grandma, Grandpa, Auntie Lisa, and the rest of your family. The goal is simply to get everybody together, show off how much your beautiful baby has grown, and thank everyone for loving your family.
A great way to do that? Host a fun, chill, non-stuffy gathering outdoors, either at your place or another family-friendly venue. The trick is setting up a space and light activities that'll keep the baby and other children at the party entertained while not subjecting your adult guests to endless games and other token kids' party kitsch they can't escape. Here are 10 ideas for throwing a fabulous first birthday party outside.
RELATED: 10 Original Ideas for an Indoor First Birthday Party
1. Stage a backyard egg hunt
This Easter tradition works any time the weather is nice enough to send guests searching your yard for treasures. The little kids in attendance will love it, and truthfully, the grownups will too. Egg hunting is even easy enough for parents to partake with a 4-year-old in hand and a baby slung to their body. Amazon and Party City sell big bags of colored plastic eggs for dirt cheap year-round, so buy a bunch, fill them with candy, coins, and age-appropriate trinkets for your youngest guests, and scatter them around your yard. Hide some in trickier spots for the bigger kids and any child-free adults who want to play.
2. Go berserk with bubbles
Babies loooove watching bubbles bebop through the air, so if you do one activity just for the birthday boy or girl, make it this. Hit up a dollar store for bubble concentrate and various-sized wands and pipes, or get a complete bubble-making kit like this one on Amazon. Then just set the gear around your yard and encourage your guests to blow, blow, blow. It's a super-chill activity that'll keep the kiddos busy and the adults won't mind doing either — especially if it makes your baby giggle and wiggle with delight.
3. Dig into a rice box
Kinda like a sandbox but without the sandstorm or filthy fingers, a rice box will provide endless entertainment for your 1-year-old and other toddlers at the party. Just fill a large plastic under-the-bed storage container (get one at Target for just $4.79) about 3-inches deep with white rice. Drop in a few scoops, dollar-store plastic buckets, and a toy boat or two and set the box out in your yard. Parents can sit with their babies on the side and let them dig around in the rice — and if a grain somehow ends up in a little mouth, it won't hurt them.
4. Go "camping."
Save the backcountry excursions for 10 years down the road. For now, set up a few tents in your backyard for the kids to play in and create a trail mix bar with bowls of nuts, granola, M&Ms, raisins, and dried fruit. For grub, keep it camping-easy with grilled brats, hot dogs, or kebabs, and serve no-campfire-required s'mores. You can broil s'mores on a baking sheet for one minute, or skip the oven and layer graham crackers with marshmallow cream and Nutella, peanut butter, or Hershey's Spreads.
5. Create a photo backdrop.
Get ready: You'll be posing for photos with your 1-year-old all party long, and everyone will want shots of your whole fam, their fam, and them holding your baby. Many of these pics will be candids, which is great, but it's also nice to give guests a good spot for photo ops. Create a fun backdrop on your fence, deck railing, or side of your house or garage. It can be as simple as hanging a "Happy First Birthday, Lucy!" banner or more elaborate with taped-up streamers, pennants, or balloons.
6. Make music.
Round up any toy instruments your kids have (xylophones, keyboards, kazoos) plus a bunch of plastic buckets, wooden spoons, and rubber spatulas. Set them in a designated space in your yard, away from where most guests will gather, to create a space for "music" making. Your baby will probably only be able to bang on the turned-over buckets, but 2- and 3-year-olds can show off their advanced skills. This is definitely an activity you only want to offer outside.
7. Stock up on sidewalk chalk.
Buy several packs of sidewalk chalk and let the little party guests go to town on your driveway, patio, and paved walks. Scribbling on cement and blacktop can keep kids of all ages occupied for hours—while still within their parents' sight. Start the sidewalk art before the party starts to encourage children to partake once they arrive. This is a great job to give your 1-year-old's older siblings, by the way, so they'll stay out of your hair while you do last-minute prep.
8. Have a picnic.
Make your entire party picnic-themed to give your outdoor event spunk without having to put much extra work in. Get a red gingham tablecloth, plates, napkins, and other décor at Party City. Then spread a bunch of blankets around your yard for guests to sit on while eat—this will also solve your problem of not having enough chairs. If you want to get crazy, place a picnic-style basket in the middle of each blanket and tie a few helium balloons to the handles.
9. Gather for story time.
Gather all the kids and any interested adults to join you and the birthday baby in a circle in the yard. Nominate a relative, friend, or older child to sit in a chair and read a baby-friendly book or two (bonus points if they dress up in a funny costume). Brown Bear, Brown Bear is a great book choice; find others in our roundup of Best Books for Babies.
10. Hit the park
Take the party away from home and gather everyone at a nearby city or county park. Many have pavilions or shelters you can reserve, or just take over a few picnic tables and have your spread there. Depending on the park's amenities and their proximity to your gathering spot, entertainment may be taken care of—think playground, beach, or volleyball courts. Otherwise, bring paddleball, bocce ball, and Frisbees for guests young and old to play with.
This article was originally published on