The Perfect Post-Pandemic Song Is an Uplifting Classic from Raffi
"I'm going to sing it again."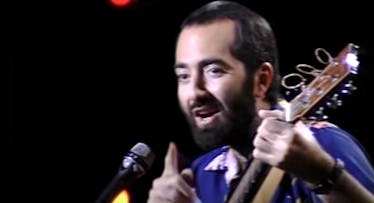 Credit: YouTube
If you've got a Raffi record, a Raffi CD, or a Raffi playlist, you've heard the song "The More We Get Together." It's an uplifting song about, well, getting together and hanging out with the people you love. But, is the song a little bit bittersweet after two years of a pandemic? The legend himself, Raffi, says no way. And he's also ready to bust out this classic the next time he has a big concert for kids.
In the first episode of Fatherly's new podcast, Finding Raffi, the singer discusses his famous 1976 song, "The More We Get Together," which was immortalized in 1984 concert footage on the VHS release A Young Children's Concert with Raffi.
For a long time, and with good reason, "The More We Get Together," has been Raffi's go-to concert opener. But, now that Raffi concerts have been put on hold because of the pandemic, it's been a bit since he's been able to kick off a show with this sweet song. That said, Raffi is ready to sing it again, just as soon as he can. Speaking on the first episode of Finding Raffi, the singer said:
"I'm going to sing it again, and I'll see if I can get every single person in the whole place to sing and maybe even the chairs will sing with us."
So there you have it. When Raffi concerts start happening again, the greatest Raffi party song will return, live.
For now, check out Finding Raffi on the following podcast platforms:
Here's the first episode!
This article was originally published on