Which Squeezable Oatmeal Pouch Is the Best? Munk Pack or Gutzy?
Which portable, squeezable oatmeal pouch is the best around? We put two main contenders to the test.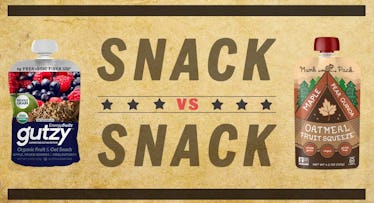 On some level, it is impossible to find a pouch of oatmeal that does not suck. The reason is simply that when food in pouches is not destined for the mouths of babes, it is suspect. (Baby food gets a pass, though, I'd also recommend exploring homemade baby food.) But when food is made into something semi-liquid and piped into a small pouch, it is not the food that is so much harmed but the human eating it. Nonetheless, sometimes you need a snack STAT and pouches, which are portable and neater than bars and other pre-packaged goods, are a good option.
So, I'm looking for the best option. To be clear: I'm evaluating oatmeal pouches which are not explicitly for babies but are kid-friendly. Pouches for adults aren't a huge industry — about $20 million annually — but what with the direction of late market capitalism, I assume market share will only grow. Today, these products are advertised toward outdoorsy types who wear fleece and fill their days hiking, kayaking, and enjoying the natural world. But the truth is, we will all be sucking food in pouches on shift breaks soon enough as we labor for robotic overlords so it's a good thing to know what's what today.
Flavor Range: The major player in the oatmeal pouch game is called Munk Pack, a company which "centers on the tiny but mighty chipmunk whose adventurous spirit and healthy diet is our inspiration." Presumably that chipmunks are "solitary creatures and normally ignore one another except during the spring, when mating takes place" was less inspiring but you never know. Munk Pack offers five types of flavored-oatmeal: apple quinoa cinnamon, blueberry acai flax, raspberry coconut, peach chia vanilla, and maple pear quinoa. I hold the maple pear in my hand.
In the other corner is a relatively newer brand called Gutzy, which offers a slew of fruit squeezies as well as fruit and oatmeal. Of the latter there are three to consume: mixed berry and steel cut oats, banana, and strawberry, and steel cut oats and apple and cinnamon and, yes, steel cut oats. I chose the apple and cinnamon which seemed like the closest analogue to the maple pear.
Advantage: Munk Pack
Flavor: The biggest challenge with squeezy oatmeal is that you are fighting against the sinking feeling that you have entered into your second childhood. So the bar here, in terms of depth and subtlety of flavor is especially (compensatorial) high. Thankfully, both Gutzy and Munk Pack oatmeal has a delicate flavor and a delightful brio. Everyone knows what apple and cinnamon taste like. That is what Gutzy's granola tastes like. And it is delicious indeed. I was less able to imagine what maple pear and quinoa (plus oatmeal) would taste like but was pleased when I squirted the stuff into my gaping maw, letting it swirl on my tongue. Oh my. It was scrummy indeed. With real maple syrup and a bit of pear tartness, chased by the almost nutty though it is free of most things including nuts and gluten — quinoa, Munk Pack's gloop is great gloop indeed.
Advantage: Munk Pack
Nutrition: Gutzy, as you might imagine from the name, has something inside it called prebiotics which help the growth of healthy probiotics. Gutzy uses acacia prebiotic fiber. Into each pouch is also crammed six grams of fiber and 10 grams of sugar, amounting to only 80 calories. Munk Pack, on the other hand, has no such prebiotics. I don't know if chipmunks know from biotic. It has half the fiber, the same amount of sugar, ten more calories and, at 2g, twice the protein.
Advantage: Gutzy
Value: Well, I used math. Six 4.2 ounce pouches of Munk Pack cost $13.79 which works out to 55 cents per ounce. You can get one 3.9 ounce pouch of Gutzy, through Jet, and that costs $1.99. That works out to 51 cents per ounce. It may seem that four cents is not a big deal and, in some sense, it isn't. But to the extent that everything in this world is a commodity, from calories to calisthenics, we should be cognizant that how much we spend is how much we kowtow to the dread god of capitalism. Four cents is but a few centimeters of dignity higher but as we cling to our pouches, backs bent and bones crushed by an unjust and imperialist system, we must be happy for every shred of humanity left.
Advantage: Gutzy
Winner: Munk Pack! It was a close call.
This article was originally published on