5 Iconic Olympians Every Kid Should Know
This history of the Olympics is inspiring. Tell your kids.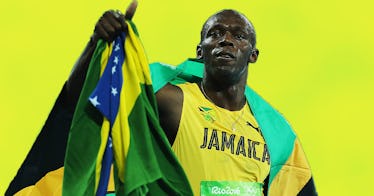 GETTY
In 2021, children have plenty of amazing and inspiring Olympians to look up to. From Simone Biles to fantastic memes, this year has been amazing. But what do your kids know about the history of the Olympics? Because this historic event is such a big deal, you might not even know where to start talking about famous Olympians with kids.
Here are five great Olympians every kid should know about, and how to easily tell your kids about why they're great.
Let the games being!
LeBron James
Yes, LeBron James is an Olympian, a global sports icon, and probably your child's favorite new basketball player thanks to Space Jam: A New Legacy, but there are at least 4 other Olympic athletes that every kid should learn about. They may have not played basketball with Bugs Bunny, but to be fair only one other person has done that, and he's an Olympian too. LeBron went to the Olympics for basketball in 2004, 2008, and 2012. He has two gold medals and one bronze medal.
Usain Bolt
No one in history comes closer to possessing superhero-like abilities than Usain Bolt. Known as one of, if not the greatest sprinter of all time, Bolt is the world record holder in the 100m dash, and not to mention, he has quite possibly the best surname to match a profession in human history (step aside Lord Brain). It cannot be overstated, but Bolt is fast. He not only holds the record for the fastest race in Olympic history, but also holds the record for second place, and he's tied for third. And if speed doesn't do enough to impress your kids, then remind them that he really is a superhero because he has his own signature pose. Not even Tom Brady has one of those!
Jesse Owens
At the 1936 Berlin Olympic games, Jesse Owens not only won 4 gold medals for Team USA, but he also became a beacon for equality. In front of Adolf Hitler, the African-American Owens won gold in 100m and the 200m races, long jump, and a relay race. The Nazis didn't congratulate Owens on his victory, and unfortunately, back home in the segregated United States, Owens didn't receive any love from the White House either. But his victories in the face of racism both foreign and domestic serve as an inspiration to overcome hate by making his loudest statements on the field and in front of the world for generations to see.
Florence Griffith-Joyner
As Usain Bolt holds the title of "fastest human of all time" Griffith-Joyner, or Flo-Jo as she was called, was for 33 years, the "fastest woman of all time". In the 1988 games, Flo-Jo completely owned the 100m and 200m races and it wasn't until the 2020 Tokyo Olympics when her 100m record was beaten by Jamaican gold medalist Elaine Thompson-Herah. But Flo-Jo became the rare Olympic athlete to transcend the games. She created a foundation to help serve underprivileged children. Also, in the mid-90s she was chosen by President Bill Clinton to serve as the co-head of the President's Council on Physical Fitness and Sports.
Kerri Strug
There's no denying Olympic athletes face a wave of pressure and stress on a level that most people will likely never have to endure, and that feeling is only amplified when an athlete is injured. In 1996, Kerri Strug hurt her ankle after a rough landing during the Vault event. In order for the USA to get the gold, she had to go again, be successful and do it all with a heavily taped ankle. Strug not only performed, but she stuck the landing and was able to get team USA the gold medal creating an iconic moment in sports history. It's a worthy argument today to consider an athlete's bodily harm when pushing through an injury and its potential lasting effects, but Strug's courage is a testament to the unbreakable spirit of an Olympic athlete.