The 7 Kid-Friendliest Highlights of Comic-Con
Including a stop-motion SpongeBob and some LEGO Ninjago action.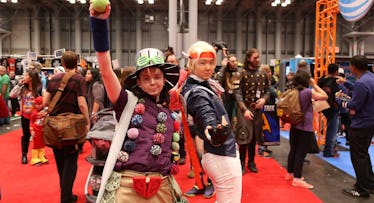 <a href="https://commons.wikimedia.org/wiki/File:New_York_Comic_Con_2014_-_Caesar_%26_Gyro_(14909924233).jpg" target=> wikim</a>
After a weekend of panels, trailers, and more leather than a rodeo, Comic-Con has officially come to an end. And while the convention offered no shortage of theories and teasers for adult fans to geek out about, the biggest moments were primarily aimed at adults. So while you're still grinning about the Norse God and Hulk having a conversation about their shared love for fire in the Thor: Ragnarok trailer and figuring out why there's a goddamn tiger in the Westworld season 2 trailer, a lot of the children's entertainment got buried. But that doesn't mean they weren't around. Here are seven totally awesome (and kid-friendly) things that happened this weekend you should keep in mind for your kids.
The LEGO Ninjago Movie Looks Like Another Win for LEGO
It's easy to forget now, but when LEGO first announced its plans to make a full-length movie, most people shrugged it off as a misguided failure waiting to happen. But two movies and millions and millions of dollars later, the toy brand has a bonafide blockbuster franchise on its hands. And The LEGO Ninjago Movie, their latest effort based on the toy spinoff of the same name, looks to be another fantastic effort. It has that seamless blend of humor, action, and pathos that made the others a success, with the addition of giant robotic dragons and one very mischievous giant cat. Look for it in theaters on September 22.
SpongeBob Like You've Never Seen Him Before
SpongeBob has been on TV for almost two decades and remains one of the most beloved kid's characters of all time. This Halloween, the square-pantsed sea creature will be leaving the two-dimensional world behind and living it up in stop-motion. The trailer only features a brief conversation between SpongeBob and the not-so-scary Flying Dutchman, but it's unquestionably fun to see such an iconic character in a completely new style. SpongeBob is the rare kid's character that is just as funny to adults, so if nautical nonsense be something you wish, be sure to tune into this new take coming in October.
Get Ready for More Wonder Woman
While no new footage of the Amazonian demi-god premiered at Comic-Con, fans of the Wonder Woman movie will be excited to hear that the sequel was officially announced this weekend. Considering the film's massive box office earnings and rave reviews and Wonder Woman's key role in the upcoming Justice League, this wasn't a shock. But still, it's nice to know we won't have to wait too long to see Diana back on the big screen.
Duck Tales: A Reboot That Doesn't Suck?
Reboots seem good in theory, but, in reality, are often pretty terrible. But the new Duck Tales series might be the rare reboot that was actually a good idea. At least based on the sneak peek that was released at Comic-Con. The trailer shows an exasperated Scrooge McDuck trying to plan an adventure while his pesky nephews Huey, Duey, and Luey continue to get in the way. Also, with the news that Darkwing Duck will be in the new show, expectations are reaching a dangerous high. Let's hope it lives up to the hype Duck Tales debuts September 23 on Disney XD.
Big Hero 6 is Coming to the Small Screen
Big Hero 6, about a boy and his superhero robot companion, was an unexpected success for Disney Animation, grossing more than $650 million worldwide and winning an Oscar for Best Animated Feature. Naturally, a sequel is in the works, but fans can get ready for some more adventures with Hiro, Baymax, and the rest of the gang with Big Hero 6: The Series. The trailer for the show was released at Comic-Con and shows our heroes trapped inside super villain Baron Von Steamer's lair. The show will debut this fall on Disney XD.
Peter Capaldi's Doctor Who Swan Song
Doctor Who made news before Comic Con when showrunners announced that the next doctor would be played by Jodie Whittaker, the first female to ever take on the iconic role. This is a fantastic step for the show, and, judging by her performance in Broadchurch, Whittaker will be an excellent Time Lord. The current Doctor, however, isn't done quite yet. The trailer for Peter Capaldi's final episode of Doctor Who debuted over the weekend and it featured the usual existential musings, space-bending action, and even an unexpected return from the original Doctor. The episode will air this Christmas on BBC.
Hey Arnold: The Jungle Movie Looks Surprisingly Good
Another promising reboot, the trailer to the new Hey Arnold movie reminded viewers why the show was such a hit back in the '90s. Will today's youth similarly learn to love everyone's favorite football head? Only time will tell, but a fun trailer that featured everyone's favorite characters from the original show, including Monkey Man and Stoop Kid, is a very good start. The two-hour movie is meant to wrap up the classic kid's show and will air on TV on Nickelodeon later this year.