Which Stand-Up Comedians Are the Most Family-Friendly?
From Regan to Gaffigan, here are the funniest stand-ups that keep it (mostly) clean.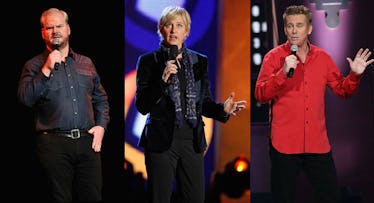 Getty Images
We are living in a golden age of stand-up comedy but while you love getting to see the greats deliver laughs on stage, chances are your kid isn't quite ready to handle some of the more mature language and themes that often come with classic stand-ups. But while you may not be introducing your kid to Dave Chappelle or George Carlin anytime soon, there are still plenty of comedians that manage to keep it (mostly) clean while still helping them fall in love with this hysterical art form. Here are five family-friendly comedians who you and your kid can both enjoy.
Brian Regan
Regan is a titan of stand-up, as he has been making people laugh with his savvy but unpretentious brand of observational humor for more than two decades. Regan's everyman charm makes him accessible to people of all ages and kids will love especially love Regan because a lot of his best material focuses on him looking back on his childhood. Regan is expert at recontextualizing all the weird stuff kids experience growing up. After all, who can forget Regan musing on trying to survive little league when you're more focused on snow cones than playing the actual game?
Nunchucks and Flamethrowers (2017) is available to stream on Netflix.
Ellen Degeneres
At this point, Ellen is mostly known for her work as the biggest day-time talk show host not named Oprah but Hollywood's Miss Congeniality made a name for herself in the world of stand-up comedy. After more than a decade away from stand-up, Ellen has made her glorious return to the stage over the last year and her first stand-up special in 15 years will be released on Netflix in December. Why not get ready for her upcoming special by revisiting some of her old material while introducing your kid to the other side of Ellen? She is hysterical without featuring jokes that might accidentally scar young kids.
Here and Now (2003) is available on HBO and iTunes.
Jim Gaffigan
Gaffigan has famously pushed back against labels like 'clean comic', arguing that all he really cares about is being funny, which he most certainly is. Still, the point stands that Gaffigan is an outrageously successful stand-up who almost entirely avoids jokes that feature swearing, sex, drugs, or anything else you may not want your kid to hear. Gaffigan is one of the smartest stand-ups working today but as a father of five, he often uses his laser focus to take on topics that kids know and love, like holidays and, of course, food. I mean, seriously, is there any stand-up routine in history more perfect for a kid than Gaffigan waxing poetic about the absurd existence of hot pockets?
Cinco (2017) is available on Netflix.
Anjelah Johnson
She may not be a household name like most of the others on the list but early YouTube fans or anyone who watched MadTV will most likely recognize Johnson as the infamous Bon Qui Qui. These days, Johnson mostly does stand-up, which, unsurprisingly features a lot of spot-on character work and goofy voices. Kids probably won't get all of her jokes but are sure to be cracking up anytime she busts out one of her phenomenal impressions.
Not Fancy (2015) is available on Netflix
Jerry Seinfeld
These days, Seinfeld may be spending most of his time drinking coffee in cars with comedians but the legendary stand-up still finds time to get up on stage and make people laugh with his one-of-a-kind warped sense of humor. Seinfeld is definitely not as kid-friendly as Gaffigan or Regan but he is someone who has made a career out of doing material that pretty much anyone can enjoy and so he steers clear of the offensive topics that other stand-up comedians embrace. After all, more than 40 years after he started, Seinfeld remains one of the best stand-ups ever and it is your duty as a parent to show your kids one of the all-time greats.
Jerry Before Seinfeld (2017) is available on Netflix.