The Internet Is Having a Blast Photoshopping This Family's Back-to-School Photo
Pop culture references abound.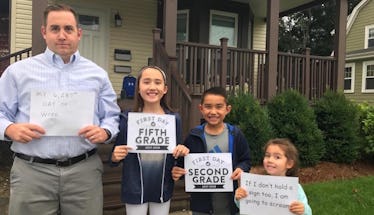 It's back to school time, which means all around the country, thousands of kids are being forced by their parents to pose for "first day of [insert grade]" photos. One family decided to get a little silly with their photo and it quickly went viral. Then, the Internet got hold of it and some folks on Reddit decided to use it as a photo contest. The results are **kisses fingers like a chef**
The original photo features a dad and three of his kids lined up in descending order, each holding a sign to indicate their grade level. While the two oldest kids are proudly holding their second and fifth-grade signs, dad is holding a sign that commemorates his 6,287th day of work. But it's the youngest daughter who really stole the show with her "If I don't hold a sign too, I'm going to scream" sign and expression that makes it look like she's cooking up a scheme.
Then, Reddit users began having some fun with this hilarious family photo, working in pop culture references and meta-humor about the fact that this family's photo is now an internet joke.
Here's a self-aware take:
The family also got an incredible superhero makeover.
And one user imagined what the photo would look like if the entire family suffered from Benjamin Button disease.
While there are plenty of impressive photos that were made, the best had to be from user dystopika, who managed to add some incredible Back to the Future special effects to remind everyone of the dangers of messing with the time-space continuum.
As far as memes go, this family photo madness is high on fun and low on gross or mean, which is pretty rare (especially on Reddit). If you have any great ideas to make this family photo even funnier, load up Photoshop, hop on over to the thread and enjoy your 15 minutes of internet fame.