'Falcon and Winter Soldier' Julia Louis-Dreyfus Cameo Explained: Who is Contessa Val?
Here's who that is and what it means.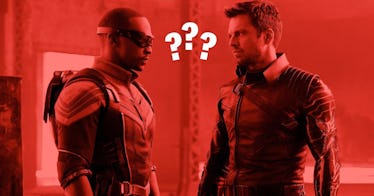 In the immortal words of Elaine Benes from Seinfeld: GET OUT! Yes, that's right, the mystery cameo of The Falcon and the Winter Soldier has just been revealed and we are speechless. We are without speech. Here's who the cameo is, and what we (think) it means. Massive spoilers ahead for The Falcon and the Winter Soldier Episode 5, "Truth."
So, early on Episode 6, after bad-Captain America, John Walker is formally dismissed by the US Government, and yadda yadda yadda, he's weirdly recruited by a mysterious woman with a shock of purple in her hair named Contessa Val. This character is played by none other than Veep and Seinfeld comedy legend Julia Louis-Dreyfus, setting her up to be possibly a huge villain in the rest of the MCU.
In fact, Vanity Fair reports that at one point, Louis-Dreyfus was slated to appear in the upcoming Black Widow movie, which could mean that the Contessa Valentina Allegra de Fontaine has been operating behind the scenes for quite some time. (Chronologically, Black Widow takes place well before the events of Endgame, WandaVision, and The Falcon and the Winter Soldier.)
Vanity Fair also points out that Veep co-star Tony Hale and showrunner David Mandel both had off-handedly mentioned their desire to see Louis-Dreyfus play a Disney or Marvel villain. So basically, this surprise cameo was kind of lurking around for a while, if you knew where to look. (Which of course, nobody did!)
Who is Contessa Val in Marvel Comics?
So, what's up with Louis-Dreyfus's new character? Well, in the comics, Contessa Val is both a former Agent of SHIELD AND, in some storylines an agent of Hydra. Her alias is sometimes "Madame Hydra." This means in The Falcon and the Winter Soldier she is almost certainly not recruiting John Walker into any kind of good organization.
Some storylines also have Contessa Val as a one-time love interest for Nick Fury, which is sort of amazing considering there's that possible Samuel L. Jackson Nick Fury Disney+ show somewhere on the horizon, maybe.
The bottom line is clear: Julia Louis-Dreyfus crashing the Marvel party isn't a one-time deal. She's here to stay. Time to do the Elaine dance.
The Falcon and the Winter Soldier has one episode left, which airs next Friday, April 23 on Disney+.