Like That 'Falcon and Winter' End-Credits Song? You'll Love the Whole Album
Curtis Harding's 2017 album 'Face Your Fear' contains the song "On and On," and it's GREAT.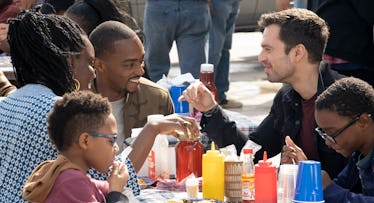 (L-R): Sarah Wilson (Adepero Oduye), Falcon/Sam Wilson (Anthony Mackie) and Winter Soldier/Bucky Barnes (Sebastian Stan) in Marvel Studios' THE FALCON AND THE WINTER SOLDIER exclusively on Disney+. Photo by Chuck Zlotnick. ©Marvel Studios 2021. All Rights Reserved.
Unlike some recent Marvel things, the ending of Captain America and the Winter Soldier didn't have a post-credits tease that overshadowed the excellent finale. Yes, there was one post-credits scene, but the nice thing about the actual ending of the sixth and final episode is that it felt like a real conclusion.
Part of that finality was helped along by the great track that played over the last montage and the credits. Although the uplifting song — "On and On" has a super-retro blues vibe, it's from an excellent contemporary 2017 album called Face Your Fear by Curtis Harding.
That album was co-produced by Danger Mouse, so when you listen to the entire LP, outside of just "On and On," you'll certainly notice an influence that sounds a bit like Gnarls Barkley, in a good way. If you've already listened to and loved Curtis Harding, then you already know what we're talking about. The song "Need Your Love" was a mega-hit in 2017, so it's not exactly like he's under the radar.
Still, if you're new to Harding, "On and On" is just one of eleven fantastic tracks on Face Your Fear. Getting the digital version of the album is easy as hell — it's on iTunes and Amazon and Spotify — but tracking down the vinyl is a little trickier. It looks like most of the vinyl pressings of Face Your Fear are in the UK because of course they are. That said, we found a reliable seller on eBay that has a bunch of Face Your Fear, which means you can spin "On and On" on your turntable for about 40 bucks including shipping.
If you want to stick to digital, here's a quick Spotify playlist we created featuring "On and On," a few soundtrack cuts from Henry Jackman's score for the show, plus some tracks from other episodes, including that song from the trailers, "Is You Ready," by Migos.
The Falcon and the Winter Soldier is streaming in its entirety on Disney+.
This article was originally published on