Every MLB Team Will Have Protective Netting by Opening Day
Less than a year after a girl was hospitalized after being hit by a foul ball at Yankee Stadium, all 30 MLB teams will begin the 2018 season with protective netting.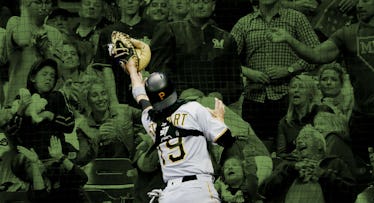 Getty Images
On September 27, 2017, the New York Yankees played host to the Minnesota Twins. On its surface, it was a game just like any other until Yankees third baseman Todd Frazier lined a foul ball into the stands, accidentally striking a young girl who was attending the game with her grandparents. The impact of being hit in the face by a 103-mph line drive was so severe that the young fan had to be hospitalized, as her eyes were also swollen shut and she suffered multiple facial fractures, along with bleeding in her brain.
As the story unfolded, it became increasingly obvious that this horrific injury could have been avoided entirely had Yankee Stadium had protective netting extended all the way out to the foul poles. Fans, journalists, and players immediately demanded that the Yankees and other teams implement extended netting to prevent future injuries. Fast forward to just six months later and the progress made has been absolutely astounding. While only a third of the teams in the league had extended netting heading into last season, it was announced last month that all 30 will have extended protective netting on Opening Day 2018.
This league-wide decision seems like an easy decision, as it will let fans enjoy a game without fear of being hurt by a broken bat or foul ball. And while attending any sporting event poses a certain risk for spectators, baseball has always been uniquely dangerous and even deadly for those in attendance, as it's estimated that "roughly 1,750 fans a year are injured due to batted balls at all of the Major League Baseball stadiums."
Until September, however, there was little attention paid to a stadium's netting. The MLB recommended teams adopt extended protective netting prior to the 2016 season, the issue was mostly seen as nothing more than an afterthought. Only 10 of the 30 MLB teams had extended protective netting heading into the 2017 season and the remaining 20 did not seem too concerned with upgrading their stadium. Why? Extended netting is largely seen as an imposition to fans who spend big money to sit in good seats or something that takes the thrill out of the game. The idea that extended netting obstructs view is a fallacy.
That all changed last year when the young girl was struck. Public outcry continued for weeks following the injury, including the young girl's father calling out the MLB for not requiring extended protective netting in every stadium. Several teams quickly announced their intention to implement netting by the end of the season or by the start of the 2018 season while others, whether because of cost concerns or simply a stubborn adherence to an outdated sense of tradition, would not fully commit to the idea. Yet over time, it became harder and harder for teams to justify not having extended netting and citing flimsy arguments about obstructing views or cost seemed to pale in comparison to the need to keep children safe.
By December, only six teams — the Chicago White Sox, Toronto Blue Jays, Oakland A's, Baltimore Orioles, Los Angeles Angels of Anaheim, and Miami Marlins — had not committed to at least having protective netting at their ballpark by the beginning of the 2018 season. By mid-January, the Angels officially announced they would be extended their protective netting to the foul poles by the start of the season, leaving only four teams without the recommended extended netting. Then, in February, MLB Commissioner Rob Manfred released an official statement from the league confirming that every team in the league would have extended protective netting by Opening Day.
"Providing baseball fans with a variety of seating options when they come to the ballpark, including seats behind protective netting, is important," Commissioner Rob Manfred said in a written statement. "Major League Clubs are constantly evaluating the coverage and design of their ballpark netting and I am pleased that they are providing fans an increased inventory of protected seats."
It's a move that is sure to be celebrated by pretty much everyone and while the MLB arguably should have made extended netting a requirement a long time ago, it's refreshing to see the league learn from its mistakes and prioritize fan safety. And knowing that the danger of being blindsided by a ball flying straight at over 100 mph will surely make a trip to the ballpark a better experience for the whole family.