The Ending of 'Hobbs & Shaw' Leaves One Big Question Unanswered
The Fast & Furious spin-off clearly sets up a sequel but also presents a new mysterious villain.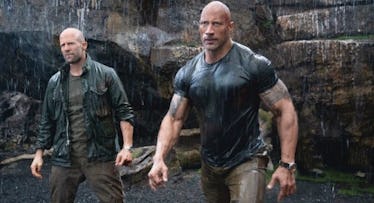 Hobbs & Shaw, the Fast & Furious spin-off film starring Dwayne "The Rock" Johnson and Jason Statham, comes to theaters this weekend, hoping to expand the F&F universe with the franchise's first-ever spin-off adventure. But beyond wondering if the Rock will finally lose an onscreen fight, you may find yourself asking a key question: does the ending mean more Hobbs & Shaw movies coming? It's a fair question. After all, in this current era of blockbusters, nearly every big-budget action movie sets itself up for a sequel, including every other film in the Fast & Furious franchise. Does Hobbs & Shaw follow this trend or buck the trend by telling a story that serves as a standalone experience? We have the answer. Maybe.
WARNING: Obviously, there are some major plot spoilers coming your way so please abandon ship if you want to walk into the film completely blind.
The movie ends with the titular agents teaming up to beat the shit out of a semi-superpowered Brixton (Idris Elba) while Shaw's sister Hattie (Vanessa Kirby) – who shared a romantic-ish kiss with Hobbs earlier in the movie – is able to extract Snowflake, a virus that has the ability to wipe out most of the human population, from her bloodstream. Shaw decides to bring a defeated Brixton in rather than kill him but before he can, Brixton is killed by the mysterious voice that appears to be the head of Eteon, the evil organization that Brixton was working for.
A series of mid- and post-credits scenes show Hobbs bringing his daughter to meet his family in Samoa while Shaw and Hattie finally visit their mom in jail (and it is heavily implied they're going to break her out). Then, CIA Agent Locke (Ryan Reynolds) gives Hobbs a call to let him know that he secured Snowflake also discusses future missions that the two will need to work together on, meaning that Locke is almost certainly to be back in future Hobbs & Shaw adventures.
Similar to the formula created by the MCU, the ending to Hobbs & Shaw doesn't really feel like an ending. While Brixton is defeated and the two overcome their differences to work together, there are still several questions that are left unanswered. Most importantly: who is the villainous voice who seems to be in charge of Eteon? The voice is intentionally distorted but speaks briefly to Hobbs and Shaw after Brixton's death, implying that they are a figure from their past while ominously warning the duo that it won't be the last time they face off.
Who could the person behind the voice be? Is it a character we already familiar with, such as Cipher (Charlize Theron)? Or is it a brand new character? At this point, it's not clear but the whole thing obviously points to a sequel (or perhaps several sequels) where the Hobbs and Shaw try to take down their enigmatic nemesis. This shouldn't really come as a surprise to anyone familiar with Fast & Furious, as Hobbs & Shaw is the ninth film in the franchise. Plus, Johnson has already said the post-credits scene sets up a "new team", which basically means that he is fully expecting to go on more Hobbs & Shaw adventures.
The Ending of 'Hobbs & Shaw' Leaves One Big Question Unanswered
The Fast & Furious spin-off clearly sets up a sequel but also presents a new mysterious villain. Read More →
Of course, whether or not we actually get to see more of these two frenemies will mostly depend on how it performs at the box office but considering that it is projected to make nearly $200 million at the global box office this weekend, don't be surprised for a Hobbs & Shaw sequel heading to theaters in the next few years.
Hobbs & Shaw comes to theaters August 2.
This article was originally published on