Disneyland's New 'Encanto' Light Show Will Be Exactly What You Think It Is
The Madrigal magic is headed to Disneyland.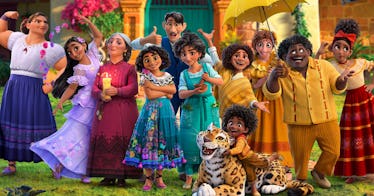 Disney
Any parent with kids under 12 years old probably hold expert knowledge in the Madrigal family. From each of the family member's unique powers to an ability to sing all the lyrics to all the songs, our kids are obsessed with Encanto, so we are by proxy. Disneyland is tapping into some of this magic and celebrating the movie throughout its theme park for a limited time. Here's what you need to know.
For a limited time, beginning April 11, the Madrigal family are being honored throughout Disneyland in a series of light shows and displays, character appearances, and floats. Mirabel herself will be at the park where kids and parents can get a photo op, posing in front of a mural of the whole Madrigal family.
The park will highlight the earworm song that won't leave our brains, "We Don't Talk About Bruno," by overtaking the iconic "it's a small world" through "projection and lighting effects and an artistic style inspired by the lyrics, with select moments that feature characters from the film," Shawn Slater, Senior Communications Manager, Disney Live Entertainment writes in a company blog post.
Having Encanto incorporated in some way to the park was something we totally saw coming given what a runaway success the movie was. Most recently, the film won an Academy Award for Best Animated Feature. Although the movie had another nomination for Best Original Song – for "Dos Oruguitas" which the studio thought would be the most popular song from the movie – and didn't win, the decision to highlight the song "We Don't Talk About Bruno," in the park's special celebrations just makes sense – and we saw it coming.
On April 22, "Main Street Electrical Parade" will return to Disneyland to celebrates its 50th anniversary with a "spectacular, new grand finale float that brings together stylized scenes from more than a dozen Disney and Pixar stories, including Encanto," the blog continues. "Sparkling lights depict the Casita, magical butterflies, and Miracle Candle from the film, with Mirabel and her cousin Antonio represented as animated dolls atop their section of the float."
These experiences at Disneyland park aren't going to be forever features so if you want to see it in real life, you'll want to make sure you book a visit.
This article was originally published on